Trishakti Prahar: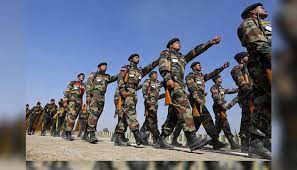 Much-anticipated joint exercise 'Trishakti Prahar' recently began near the western border of Rajasthan in Jaisalmer.
Trishakti Prahar is a joint military exercise involving the Indian Army, the Indian Navy, and the Indian Air Force.
It aims to enhance mutual coordination and operational efficiency.
It seeks to create new strategies and assess operational capabilities in the context of modern warfare.
During the exercise, all three wings of the Indian Army actively engage in live practice sessions, simulating real war scenarios with complete coordination.
The exercise includes long-range attacks by reconnaissance aircraft, emphasizing precision and high-volume attacks to effectively neutralize hypothetical adversaries.
It involves a diverse array of military assets, including various types of howitzers, helicopters, and weaponry.
This encompasses the deployment of the Army's T-90s and Arjun main battle tanks.
A major highlight of the exercise is the demonstration of the operational capability and readiness of the Pune-based Southwestern Command of the Indian Air Force.
This segment showcases the Air Force's preparedness for integrated air-land operations, combined arms operations, and its fast mobility and deep strike offensive capabilities.
Fighter aircraft, Apache attack helicopters, Chinook heavy lift helicopters, and various Navy aircraft contribute to the multifaceted nature of the exercise.
It serves as a platform to evaluate the effectiveness of modern warfare technologies such as unmanned aerial vehicles, precision-guided missiles, loiter munitions, counter-drone systems, communication systems, and automatic spectrum monitoring systems in a simulated operational environment.