Tadoba-Andhari Tiger Reserve: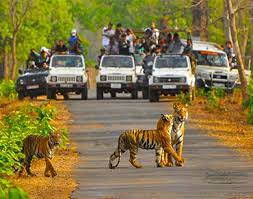 Tadoba-Andhari Tiger Reserve's (TATR) dominant tiger, Bajrang, said to have sired at least 50 cubs during his lifetime, recently died in a territorial fight with another powerful tiger, Chhota Matka.
Tadoba-Andhari Tiger Reserve (TATR)  is located in the Chandrapur district in of Maharashtra.
The origin of the name "Tadoba" lies with the name of the god "Tadoba" or "Taru", worshipped by the tribes that live in the dense forests of the Tadoba and Andhari regions. "Andhari" refers to the Andhari River that meanders through the forest.
The total area of the reserve is 625.4 sq. km. This includes Tadoba National Park, covering 116.55 sq. km and Andhari Wildlife Sanctuary, covering 508.85 sq. KM.
The reserve has corridor linkages with Nagzira-Navegaon and Pench Tiger Reserves within the State.
Biogeographically, the reserve falls in the Central plateau province of the Deccan Peninsula.
The habitat has undulating topography in the north and is rich in biodiversity.
There are two lakes and one waterway in the reserve, Tadoba Lake, Kolsa Lake, and the Tadoba River.
The reserve is adorned with patches of grass and bamboo shrubberies.
The notable faunal species include the tiger, leopard, sloth bear, wild dog, gaur, chital, and sambar.
As many as 280 species of birds are found, apart from reptiles (54 species), amphibians (11 species), and fishes (84 species).