TROPEX 21: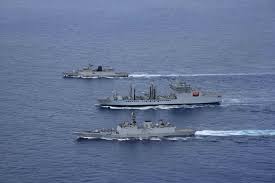 Indian Navy's largest biennial Theatre Level Operational Readiness Exercise (TROPEX 21) is currently underway.
The exercise commenced in early January, which will culminate by the third week of February.
Theme: 'Combat Ready, Credible and Cohesive force'.
Participants: Indian Navy, Coast Guard, Marine Police of 13 coastal States and Union Territories along with other stakeholders in the maritime domain.
'Sea Vigil': 'In the first phase, the Indian Navy had conducted coastal defence exercise 'Sea Vigil' along the entire coastline and Island territories of India on 12-13 January 2021.
Exercise Sea Vigil was followed by a large-scale Tri-Service joint amphibious exercise AMPHEX-21.
The exercise is being conducted over a vast geographical expanse in the Indian Ocean Region.