G20 Culture Working Group Meet: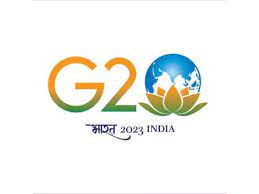 The UNESCO World Heritage site KHAJURAHO located in the state of Madhya Pradesh is hosting the first Culture Working Group Meeting. More than 125 delegates from foreign countries will attend the meeting.
Ministry of Culture is organising the 1st G20 Culture Working Group (CWG) meet in Khajuraho, Madhya Pradesh from 22nd to 25th February 2023.
The overarching theme of G20 is that of "Vasudev Kutumbakam"- One Earth · One Family · One Future'. Ministry of Culture has developed a robust programme of cultural projects inspired by India's G20 theme of "Vasudev Kutumbakam".
The Secretary further explained that India's G20 Culture Track is predicated on the idea of 'Culture for LiFE'- environmentally conscious lifestyle as a campaign for sustainable living.
Shri Govind Mohan also said that the CWG will have four meetings and they will be held in Khajuraho, Bhubaneshwar, Hampi and the final location, is yet to be decided.
He also informed that for Khajuraho, the theme is "Protection and Restitution of Cultural Property".
Four priority areas of India's CWG include Protection and Restitution of Cultural Property;Harnessing Living Heritage for a Sustainable Future; Promotion of Cultural and Creative Industries, and Creative Economy;Leveraging Digital Technologies for Protection and Promotion of Culture.
To engage with these priorities further, the CWG has also developed a robust year-long program of cultural projects such as exhibitions, immersive experiences, symposiums, seminars, art residencies, workshops, publications, etc.
Khajuraho:
It is a group of Hindu and Jain temples.
They were built in 1000 CE during the Chandela dynasty.