UN Approved Multinational Security Mission In Haiti: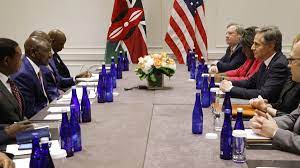 The United Nations Security Council (UNSC) has approved the Multinational Security Mission(MSS), led by Kenya, to restore security, protect critical infrastructure and control spiraling violence in Haiti.
Haiti faced escalating gang violence, causing chaos and suffering throughout the country.
A group of gangs known as "G9 and Family" disrupted the main fuel port and the Capital city Port-au-Prince, leading to a nationwide crisis.
This has resulted in widespread killings of nearly 2,800 people, between October 2022 and June 2023.
Human rights groups have reported a rise in sexual violence and crimes against women. In addition to this, mass looting and burning of houses have led to the displacement of thousands of people, with around 200,000 fleeing their homes. As per estimates, almost half the population is in need of humanitarian assistance.
The Haitian Prime Minister reached out to the international community, seeking specialized armed forces to counter the gangs and their backers.
Unlike the Previous UN peacekeeping mission in Haiti that concluded in 2017, this new MSS will not be operated by the United Nations.
Kenya has volunteered to lead the force, with support from other countries like the Bahamas, Jamaica, and Antigua and Barbuda.