Unique Land Parcel Identification Number (ULPIN) Scheme: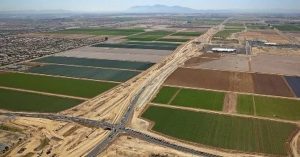 Bhumi Samvaad' – a National Workshop on Digital India Land Record Modernisation Programme (DILRMP) was held recently at India Habitat Centre here in the national capital.
Talking about the importance of Unique Land Parcel Identification Numbers (ULPIN), Shri Singh said it is just like the Aadhar Number of land parcels.
He said that in this unique system wherein a unique ID based on Geo-coordinates of the parcels is generated and assigned to the plots.
Under the scheme, a 14-digit identification number will be issued to every plot of land in the country.
It is being described as "the Aadhaar for land" — a number that would uniquely identify every surveyed parcel of land and prevent land fraud, especially in rural India, where land records are outdated and disputed.
The identification will be based on the longitude and latitude of the land parcel, and is dependent on detailed surveys and geo-referenced cadastral maps.