United Nations Human Rights Council (UNHRC):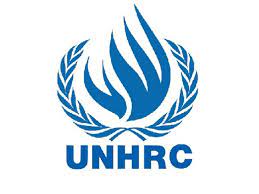 The United Nations Human Rights Council (UNHRC) unanimously voted for recognising a clean, healthy and sustainable environment as a Universal Human Right.
If recognised by all, the right will be the first of its kind in more than 70 years since the Universal Declaration of Human Rights (UDHR) was adopted by the UN General Assembly in 1948.
UDHR: The 30 rights and freedoms include civil and political rights, like the right to life, liberty, free speech and privacy and economic, social and cultural rights, like the right to social security, health and education, etc.
The concept of human rights in general emerged after the Second World War (1939-45), but the right to a healthy environment, as one of those human rights, was never a priority.
The right to a clean environment is rooted in the 1972 Stockholm Declaration, popularly called as the Magna Carta of human environment.
It contained principles and recommendations for environmental policy.
'Caring for the Earth 1991' and the 'Earth Summit' of 1992" also declared that human beings are entitled to a healthy and productive life in harmony with nature.
The human right to a healthy environment brings together the environmental dimensions of civil, cultural, economic, political, and social rights, and protects the core elements of the natural environment that enable a life of dignity.
The right to life (Article 21) has been used in a diversified manner in India. It includes, inter alia, the right to survive as a species, quality of life, the right to live with dignity and the right to livelihood.
Article 21 of the Indian Constitution states: 'No person shall be deprived of his life or personal liberty except according to procedures established by law.'
Further the Constitutional (forty-second Amendment) Act, 1976 incorporated two significant articles viz. Article 48-A and 51A (g) thereby making the Indian Constitution the first in the world conferring constitutional status to the environment protection.
Article 48-A: The State shall endeavour to protect and improve the environment and to safeguard the forests and wildlife of the country.
Article 51A(g): It is a duty of every citizen to protect and preserve the environment.