UNMESHA: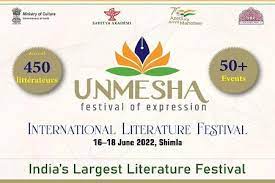 The Ministry of Culture and Sahitya Akademi are organizing Unmesha, an International Literature Festival in Shimla as part of Azadi ka Amrit Mahotsav celebrations, with the support of the Department of Art and Culture, Government of Himachal Pradesh.
With over 425 writers, poets, translators, critics and distinguished personalities from various walks of life from 15 countries including India, representing over 60 languages and 64 events, UNMESHA is the largest literature festival in the country.
The Sahitya Akademi was formally inaugurated by the Government of India on 12th March, 1954.
Though it was set up by the Government, the Akademi functions as an autonomous organisation. It was registered as a society in January 1956, under the Societies Registration Act, 1860.
Sahitya Akademi, India's National Academy of Letters, is the central institution for literary dialogue, publication and promotion in the country and the only institution that undertakes literary activities in 24 Indian languages, including English.
Akademi gives 24 awards annually to literary works in the languages it has recognized and an equal number of awards to literary translations from and into the languages of India, both after a year-long process of scrutiny, discussion and selection.
It also undertakes literary exchange programmes with various countries across the globe to promote Indian literature.
The Sahitya Akademi award is the second-highest literary honour by the Government of India, after the Jnanpith award.