Ureilite : Rare And Ancient Meteorite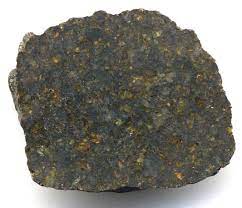 In a recent discovery, a collaborative team of scientists from Allahabad University and the University of Bern, Switzerland, revealed that the Dhala crater resulted from the collision of an exceptionally rare and ancient meteorite, known as Ureilite.
Ureilite are a rare class of primitive meteorites that constitute just a tiny fraction of meteorites on Earth.
It is named after the locality where the first specimen was discovered, the Novo Urei village in Russia.
They consist of silicate rock, mostly olivine and pyroxene, interspersed with less than 10% of carbon (diamond or graphite), metal sulphides and a few fine-grained silicates.
They contain elongated cavities generally stretched in the same direction.
Unlike many other stony meteorites, ureilites do not contain chondrules, which are small, spherical grains that formed in the early solar system.
Ureilites are considered primitive meteorites because their composition closely resembles the material from which the solar system formed.