Nasa's OSIRIS-REx Spacecraft : Back To Earth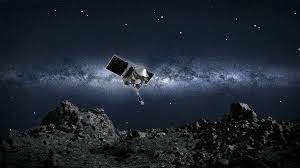 Nasa's OSIRIS-REx spacecraft, currently on a return journey from asteroid Bennu, recently made a critical course adjustment to ensure its successful arrival back to Earth.
OSIRIS-REx is a NASA spacecraft mission designed to study the near-Earth asteroid called Bennu.
The name OSIRIS-REx stands for "Origins, Spectral Interpretation, Resource Identification, Security, Regolith Explorer."
Goal is to collect a sample weighing at least 2.1 ounces (59.5 grams) from asteroid 101955 Bennu (formerly known as 1999 RQ36) and then bring the sample to Earth.
The mission will help scientists investigate how planets formed and how life began, as well as improve our understanding of asteroids that could impact Earth.
It is the first U.S. spacecraft to collect a sample from an asteroid.
It was launched on Sept. 8, 2016.
It reached its asteroid target in 2018 and is bringing a small sample to Earth for study.
The samples will arrive on Earth in 2023.