Vaikom Satyagraha: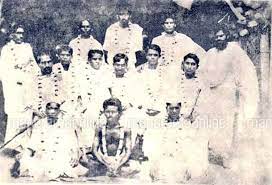 As the year 2024 marks the centenary of the Vaikom Satyagraha, Chief Minister of Kerala and Tamil Nadu jointly inaugurated the centenary celebrations.
Vaikom Satyagraha was a movement in Travancore (modern-day Kerala) for temple entry of the depressed classes.
It took place near the Shiva Temple at Vaikom, Kottayam district, Kerala during 1924-25. Vaikom was at that time a part of the princely state of Travancore.
The movement began on 30th March 1924.
At the Vaikom Mahadeva Temple, there was a board that denied the entry of "lower caste" people (avarnas).
The Satyagrahis made batches of three and entered the temple.
They were resisted and arrested by the police.
Gandhiji, Chatampi Swamikal and Sree Narayana Guru supported the movement.
The movement gained prominence in the whole of India and support came from far and wide.
The Akalis of Punjab supported by setting up kitchens to provide food to the Satyagrahis.
Even Christian and Muslim leaders were in support of the movement. However, Gandhiji was not entirely convinced by this as he wanted the movement to be an intra-Hindu affair.
On Gandhiji's advice, the movement was taken back temporarily in April 1924.
After discussions with caste Hindu people failed, the leaders again started the movement.
Leaders T K Madhavan and K P Kesava Menon were arrested.
E V Ramaswami Naicker (Periyar) came from Tamil Nadu to support the movement and then he was arrested.
On 1st October 1924, a group of savarnas (forward castes) marched in a procession and submitted a petition to the Regent Maharani Sethu Lakshmi Bai of Travancore with approximately 25000 signatures for allowing entry to the temple for everyone.