Kurmi Community Protest: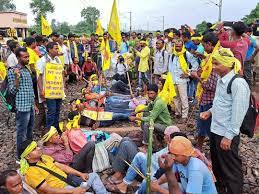 Train services were recently disrupted in Bankura, Purulia and West Midnapore districts of West Bengal following rail-blockade agitation by the Kurmi community.
Kurmi community is traditionally a non-elite tiller caste in the lower Gangetic plain of India, especially southern regions of Awadh, eastern Uttar Pradesh and parts of Bihar.
The Kurmis came to be known for their exceptional work ethic, superior tillage and manuring, and gender-neutral culture, bringing praise from Mughal and British administrators alike.
Currently, in Odisha, West Bengal and Jharkhand, the Kurmi community is classified under the Other Backward Classes group with the Odisha government also recognising the community under the Socially and Educationally Backward Classes.
State governments in Jharkhand and West Bengal have repeatedly recommended the inclusion of this community in the ST list.