Concluding Session Of Global South Summit: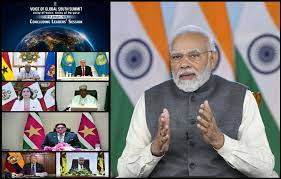 At the concluding session of the virtual Voice of Global South Summit, India unveiled initiatives to assist the Global South in areas ranging from technology to health
Aarogya Maitri project for providing medical supplies to any disaster-hit country
Global-South Scholarships for students from developing countries to pursue higher education in India
Global-South young diplomats forum to connect officers of foreign ministries with other countries
Global-South Centre of excellence for R&D
Global-South Science and Technology for space and nuclear energy initiatives sharing
The concept of Global North and Global South is used to describe a grouping of countries along socio-economic and political characteristics. The Global South is a term often used to identify regions within Latin America, Asia, Africa, and Oceania.
The global south consists of the poorest and least industrialized countries, which are mainly in the southern part of the world.
About the Summit:
India hosted the summit (as a president of G20) in a bid to articulate the views of the developing countries regarding the effects of the pandemic and the war in Ukraine.