Bhu-Vision : IoT-Based Automated Soil Testing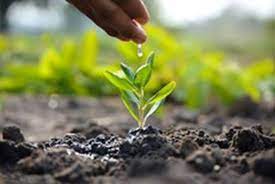 A revolutionary IoT-based automated soil testing and agronomy advisory platform, Bhu-Vision was officially launched at AICRP (ICAR-IIRR), Hyderabad.
Bhu-Vision is also known as KRISHI-RASTAA Soil Testing System.
It has been jointly developed by ICAR-IIRR(Indian Council of Agricultural Research -Indian Institute of Rice Research) and KrishiTantra.
This system seamlessly conducts 12 key soil parameter tests in just 30 minutes.
It provides quick and accurate results directly to farmers and stakeholders through a soil health card on their mobile devices.
Indian Institute of Rice Research:
It was established as All India Coordinated Rice Improvement Project (AICRIP) by the Indian Council of Agricultural Research (ICAR) in 1965.
Headquarter: Hyderabad.
Mandate :

Basic and strategic research for enhancing rice productivity under irrigated ecosystem
Coordination of multi-location testing to develop location specific varieties and technologies for various ecosystems.
Dissemination of technologies, capacity building and establishing linkages