Yaoshang Festival : Manipur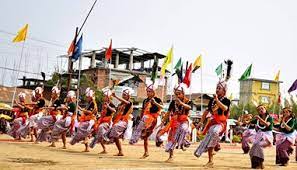 The five-day-long Yaoshang festival is Manipur's version of Holi.
Yaoshang Festival is celebrated every year on the full moon of Lamta month (February-March) of the Meitei lunar calendar.
The festival is celebrated by the Meitei people who are predominantly Hindu.
Meiteis are the dominant population of Manipur in northeastern India.
It is celebrated at the same time as Holi and is known as 'Manipur's version of Holi'.
The five-day-long celebration begins with the burning of 'yaoshang' (a small thatch hut/straw hut) which is constructed with bamboo and straws on the first day
The highlight of the festival is the ThabalChongba, a traditional Manipuri folk dance where boys and girls hold hands and sing and dance in a circle.
The festival marks the rejuvenation of the spirit of life and commemorates the birthday of Chaitanya Mahaprabhu.