West Nile virus: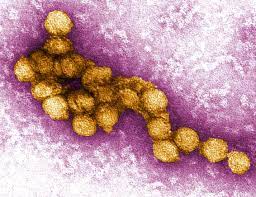 The New York City Health Department announced that the West Nile virus had been detected in two people, one in Brooklyn and another in Queens, as well as in a "record number" of infected mosquitoes throughout the city.
West Nile Virus (WNV) can cause neurological disease and death in people. WNV is commonly found in Africa, Europe, the Middle East, North America and West Asia.
WNV is maintained in nature in a cycle involving transmission between birds and mosquitoes. Humans, horses and other mammals can be infected.
West Nile Virus (WNV) is a member of the flavivirus genus and belongs to the Japanese encephalitis antigenic complex of the family Flaviviridae.