Green Bonds: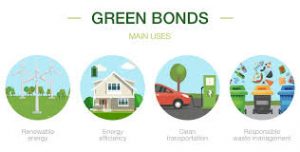 As per a recent study by the Reserve Bank of India (RBI), the cost of issuing green bonds has generally remained higher than other bonds in India, largely due to asymmetric information.
Green Bonds:
A green bond is a debt instrument with which capital is being raised to fund 'green' projects, which typically include those relating to renewable energy, clean transportation, sustainable water management etc.
A bond is a fixed income instrument that represents a loan made by an investor to a borrower (typically corporate or governmental).
Bonds traditionally paid a fixed interest rate (coupon) to investors.
Growth:
In 2007, green bonds were launched by few development banks such as the European Investment Bank and the World Bank. Subsequently, in 2013, corporates too started participating, which led to its overall growth.
Regulation:
The Securities and Exchange Board of India (SEBI) has put in place disclosure norms for issuance and listing of green bonds.
Benefits:
Enhances Reputation: Green bonds enhance an issuer's reputation, as it helps in showcasing their commitment towards sustainable development.
Fulfillment of Commitments: Ability to meet commitments, for signatories to climate agreements and other green commitments.
India's Intended Nationally Determined Contribution (INDC) document puts forth the stated targets for India's contribution towards climate improvement and following a low carbon path to progress.
Raised at Lower Costs: Green bonds typically carry a lower interest rate than the loans offered by the commercial banks.

With an increasing focus of foreign investors towards green investments, it could help in reducing the cost of raising capital.

Sunrise Sectors: These green bonds have been crucial in increasing financing to sunrise sectors like renewable energy, thus contributing to India's sustainable growth.
Details of RBI's Recent Study:
Current Share:

Green bonds constituted only 0.7% of all the bonds issued in India since 2018.
However, bank lending to the non-conventional energy (renewable energy) constituted about 7.9% of outstanding bank credit to the power sector, as of March 2020.
Most of the green bonds in India are issued by the public sector units or corporates with better financial health.