What Is a Bad Bank?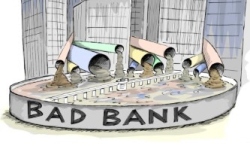 The Ministry of Finance has announced that the National Asset Reconstruction Company (NARCL) along with the India Debt Resolution Company (IDRCL) will take over the first set of bad loans from banks and try to resolve them.
The health of the balance sheets of Indian banks has improved significantly over the last few years with their Gross Non-Performing Assets (GNPA) ratio declining from a peak of 11.2% in FY18 to 6.9% in Q2FY22.
NARCL has been set up by banks to aggregate and consolidate stressed assets for their subsequent resolution. PSBs will maintain 51% ownership in NARCL.
IDRCL is a service company/operational entity which will manage the asset and engage market professionals and turnaround experts.
Public Sector Banks (PSBs) and Public FIs will hold a maximum of 49% stake and the rest will be with private sector lenders.
The government had already announced sovereign guarantees of Rs 30,600 crore for Security Receipts (SRs) to be issued by NARCL, which will be buying Rs 2 lakh crore non-performing loans from banks.
A bad bank is a financial entity set up to buy Non-Performing Assets (NPAs), or Bad Loans, from banks.
The aim of setting up a bad bank is to help ease the burden on banks by taking bad loans off their balance sheets and get them to lend again to customers without constraints.
After the purchase of a bad loan from a bank, the bad bank may later try to restructure and sell the NPA to investors who might be interested in purchasing it.
A bad bank makes a profit in its operations if it manages to sell the loan at a price higher than what it paid to acquire the loan from a commercial bank.
However, generating profits is usually not the primary purpose of a bad bank — the objective is to ease the burden on banks, of holding a large pile of stressed assets, and to get them to lend more actively.