Ranveer Singh Bestowed The UAE Golden Visa: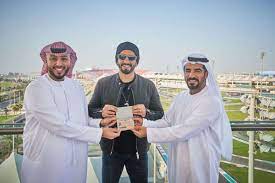 Bollywood A-lister Ranveer Singh was bestowed the UAE golden visa on March 29 in Abu Dhabi. He's the latest Bollywood talent to be granted the ten-year permit.
So far, more than 10 Bollywood actors have got their UAE golden visas.
In 2019, the United Arab Emirates (UAE) implemented a new system for long-term residence visas, thereby enabling foreigners to live, work and study in the UAE without the need of a national sponsor and with 100 per cent ownership of their business.
The Golden Visa system essentially offers long-term residency (5 and 10 years) to people belonging to the following groups:

investors, entrepreneurs, individuals with outstanding talents the likes of researchers, medical professionals and those within the scientific and knowledge fields, and remarkable students.
Eligibility requirements:
For investors:
A deposit of at least AED (United Arab Emirates Dirham) 10 million worth of public investment, either in the form of an investment fund or a company.
60% of the total investment must not be in the form of real estate.
The invested amount must not be loaned, or in case of assets, investors must assume full ownership.
The investor must be able to retain the investment for a minimum of three years.
May be extended to include business partners, providing that each partner contributes AED 10 million.
Can also include the holder's spouse and children, as well as one executive director and one advisor.
For individuals with specialized talents:
The category includes doctors, researchers, scientists, investors and artists. These individuals may be granted a 10-year visa following accreditations granted by their respective departments and fields. The visa also extends to their spouses and children.
Eligibility for a 5-year visa:
The investor must invest in a property of a gross value of not less than AED 5 million.
The amount invested in real estate must not be on loan basis.
The property must be retained for at least three years.
Outstanding students:
Outstanding students with a minimum grade of 95% in public and private secondary schools.
University students within and outside the country having a distinction GPA of at least 3.75 upon graduation.