What Is a Green Bond?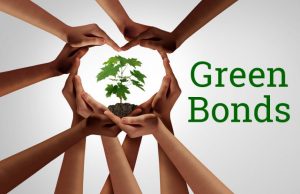 India is likely to face an uphill battle if it goes ahead with its first sovereign green bond sale as it aims to issue the securities in rupees, putting off most overseas investors.
The timing might not be ideal for India though, especially for a rupee issuance.
The currency has slumped more than 4% this year amid concern the Reserve Bank of India is behind the curve in tackling inflation, with elevated crude oil prices adding to pressures on the net importer.
A green bond is a type of fixed-income instrument that is specifically earmarked to raise money for climate and environmental projects.
These bonds are typically asset-linked and backed by the issuing entity's balance sheet, so they usually carry the same credit rating as their issuers' other debt obligations.​
Green bonds may come with tax incentives to enhance their attractiveness to investors.
The World Bank is a major issuer of green bonds.
Green bonds work just like any other corporate or government bond.
Borrowers issue these securities in order to secure financing for projects that will have a positive environmental impact, such as ecosystem restoration or reducing pollution.
Investors who purchase these bonds can expect to make as the bond matures.
In addition, there are often tax benefits for investing in green bonds.