What Is a Green Bond?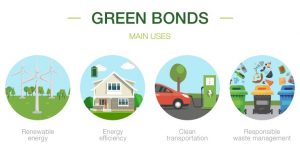 Power Finance Corporation Ltd (PFC), the leading NBFC in power sector, has successfully issued its first ever Euro Green Bonds.
It is the first ever Euro denominated Green bond issuance from India.
Moreover, it is the first ever Euro issuance by an Indian NBFC and the first Euro bond issuance from India since 2017.
What Is a Green Bond?
A green bond is a type of fixed-income instrument that is specifically earmarked to raise money for climate and environmental projects.
These bonds are typically asset-linked and backed by the issuing entity's balance sheet, so they usually carry the same credit rating as their issuers' other debt obligations.​
Green bonds may come with tax incentives to enhance their attractiveness to investors.
The World Bank is a major issuer of green bonds. It has issued 164 such bonds since 2008, worth a combined $14.4 billion. In 2020, the total issuance of green bonds was worth almost $270 billion, according to the Climate Bond Initiative.
Green bonds work just like any other corporate or government bond.
Borrowers issue these securities in order to secure financing for projects that will have a positive environmental impact, such as ecosystem restoration or reducing pollution.
Investors who purchase these bonds can expect to make as the bond matures.
In addition, there are often tax benefits for investing in green bonds.