What Is A Sea Snot?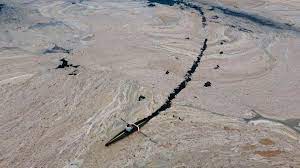 The sea snot that dominated the landlocked Marmara Sea earlier this year is nowhere to be seen on the surface nowadays, but its fallout appears to be bigger than experts initially hoped.
Impact of sea snot:
Overall, 60% of species have already disappeared.
The layers have sunk and are beginning to decompose.
The decomposition consumes oxygen in the water, which in turn promotes the formation of new marine mucilage.
In October, the conditions will be particularly favorable for a new spread. Therefore, the sludge may be visible on the surface again in November.
The slime could also spread to the Black Sea and the Aegean and may cause a regional ecological crisis.
Turkey's Sea of Marmara, that connects the Black Sea to the Aegean Sea, has witnessed the largest outbreak of 'sea snot'. The sludge has also been spotted in the adjoining Black and Aegean seas.
About Sea snot:
It is a slimy layer of grey or green sludge, which can cause considerable damage to the marine ecosystem.
It is formed when algae are overloaded with nutrients.
A 'sea snot' outbreak was first recorded in the country in 2007. Back then, it was also spotted in the Aegean Sea near Greece.
Overloading of nutrients happens because of warm weather caused by global warming, water pollution, uncontrolled dumping of household and industrial waste into the seas etc.
Turkey has decided to declare the entire Sea of Marmara as a protected area.
Steps are being taken to reduce pollution and improve treatment of waste water from coastal cities and ships.
A disaster management plan is being prepared.