Black Sea And Russia: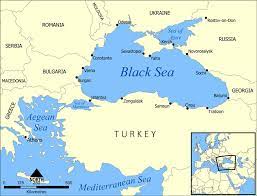 The sinking of the warship Moskva, the 600-foot, 12,500-tonne flagship of the Russian Black Sea Fleet — whether due to a Ukrainian missile strike or, as Russia claims, a fire on board — is a serious setback for Russia.
The Black Sea, also known as the Euxine Sea, is one of the major water bodies and a famous inland sea of the world.
This marginal sea of the Atlantic Ocean, located between Eastern Europe and Western Asia.
It is surrounded by the Pontic, Caucasus, and Crimean Mountains in the south, east and north respectively.
The Turkish straits system – the Dardanelles, Bosporus and Marmara Sea – forms a transitional zone between the Mediterranean and the Black Sea.
The Black Sea is also connected to the Sea of Azov by the Strait of Kerch.
The bordering countries of Black Sea are: Russia, Ukraine, Georgia, Turkey, Bulgaria and Romania.