e-SANTA: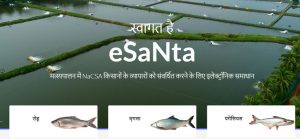 It is an electronic marketplace providing a platform to connect aqua farmers and buyers.
Launched by Union Commerce Ministry.
It will enable the farmers to get a better price and the exporters to directly purchase quality products from the farmers enhancing traceability, a key factor in international trade.
The term e-SANTA was coined for the web portal, meaning Electronic Solution for Augmenting NaCSA farmers' Trade-in Aquaculture.
e-SANTA will 'RAISE' the lives & income of farmers by Reducing Risk, Awareness of Products & Markets, Increase in Income, Shielding Against Wrong Practice and Ease of Processes.