Haryana's Quota Law: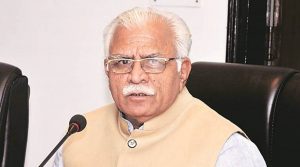 The Haryana State Employment of Local Candidates Bill, 2020 requires private companies to set aside for domiciles 75% of jobs up to a monthly salary of Rs 50,000 or as may be notified by the government from time to time.
The law is applicable to all the companies, societies, trusts, limited liability partnership firms, partnership firms and any person employing 10 or more persons and an entity, as may be notified by the government from time to time shall come under the ambit of this Act.
While constitutional guarantees for reservation have been limited to public employment, attempts to extend it to the private sector are not new either. In July 2019, the Andhra Pradesh government had passed a similar law, which was challenged in court.
While domicile quotas in education are fairly common, courts have been reluctant in expanding this to public employment.
Last year, the Madhya Pradesh government decided to reserve all government jobs for "children of the state", raising questions relating to the fundamental right to equality of citizens.
The second question, which is more contentious, is the issue of forcing the private sector to comply with reservations in employment.