Northern Ireland Protocol: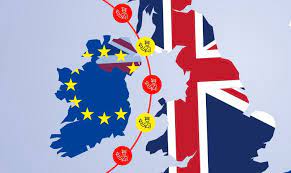 Britain and the EU are locked in an escalating diplomatic feud over Northern Ireland, the only part of the U.K. that borders the 27-nation bloc. The EU says Britain must fully implement the agreement, known as the Northern Ireland Protocol, that the two sides agreed and ratified.
It came into force on 1 January 2021 and is now part of international law.
Under the protocol, both sides agreed that, even though Northern Ireland was no longer part of the EU, it would continue to follow many of its rules.
This would enable lorries to continue driving across the land border without being inspected.
Meanwhile, England, Scotland, and Wales are no longer following those rules – leading to a new "regulatory" border between Great Britain and Northern Ireland.
New checks on goods now need to be carried out when they enter Northern Ireland from England, Scotland, or Wales.
Inspections take place at Northern Ireland ports, and customs documents have to be filled in.
Geographically, Northern Ireland is part of Ireland. Politically, it's part of the United Kingdom.