OPTICAL GROUND WIRE (OPGW):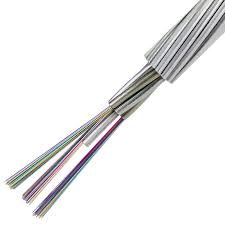 To improve telecom connectivity in hilly areas, Power Grid Corporation of India Limited (POWERGRID), has recently signed an agreement with Himachal Pradesh State Electricity Board Ltd. (HPSEBL) in Shimla (H.P.) for utilization of 500 Kms of OPGW Telecom network.
Through this OPGW Network, Telecom Service providers will be able to provide uninterrupted mobile/Internet services to the people of the state.
An optical ground wire is also known as an OPGW or, in the IEEE standard, an optical fiber composite overhead ground wire.
It is a type of cable that is used in overhead power lines. Such cable combines the functions of grounding and communications.
OPGW is an optical fiber composite ground wire.
This cable contains a tubular structure having one or more optical fiber and surrounded by layers of aluminum and steel wires.
This layer of aluminum and steel wires serves to connect the tower to the ground. The optical fiber within the cable is used for the high-speed data telemetry between the utilities or sold to some third parties for high-speed fiber interconnection between the cities.
POWERGRID, a 'Maharatna' CPSE under the Ministry of Power, Government of India and Central Transmission Utility (CTU) of India, is India's principal power transmission company and also one of the largest power transmission utilities in the world.