Corporatization Of Ordnance Factory Board: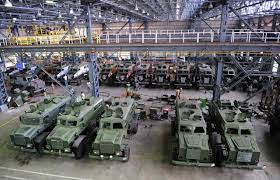 The Union Cabinet approved a plan to corporatise the Ordnance Factory Board (OFB).
New Structure:
41 factories across the country will be dissolved into seven new Defence Public Sector Undertakings (DPSU). The newly created entities will be 100% owned by the government.
These entities will be responsible for different verticals of the products such as the Ammunition and Explosives group will be engaged in the production of ammunition while a Vehicles group will engage in the production of defence mobility and combat vehicles.
All OFB employees in the production units will be transferred to the new corporate entities on a deemed deputation initially for a period of two years without altering their service conditions as central government employees.
Pension liabilities of the retirees and existing employees will continue to be borne by the government.
OFB:
It is an umbrella body for the ordnance factories and related institutions and is currently a subordinate office of the Ministry of Defence (MoD).
The first Indian ordnance factory was set up in the year 1712 by the Dutch Company as a GunPowder Factory, West Bengal.
It is a conglomerate of 41 factories, 9 Training Institutes, 3 regional marketing centres and 5 regional controllers of safety.
Headquarters: Kolkata
Significance: A major chunk of the weapon, ammunition and supplies for not just armed forces but also paramilitary and police forces comes from the OFB-run factories.
Production includes Civilian and military-grade arms and ammunition, explosives, propellants and chemicals for missile systems, military vehicles, armoured vehicles, optical devices, parachutes, support equipment, troop clothing and general store items.