Project 'Pyrasol':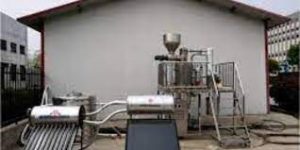 The foundation stone of the integrated Solar Dryer and Pyrolysis pilot plant was recently laid at Chennai.
The pilot is part of the Indo-German project 'Pyrasol', launched to transform urban organic waste into biochar and energy in smart cities.
It was awarded to CSIR-CLRI by the Indo-German Science & Technology Centre.
The project will ultimately lead to technology development for the joint processing of Fibrous Organic Waste (FOW) and Sewage Sludge (SS) of Indian smart cities into hygienic and highly valuable biochar associated with energy recovery, carbon sequestration and environmental improvement.
Project Pyrasol:
The project focuses on managing and organising the collection, treatment, and disposal systems of urban wastes in Indian Smart Cities as well as in other urban centers with an integrated and interactive approach.
About Indo-German Science & Technology Centre (IGSTC):
Established by India and Germany to facilitate Indo-German R&D networking with emphasis on industry participation, applied research, and technology development.
IGSTC through its flagship program '2+2 Projects', catalyzes innovation-centric R&D projects by synergizing the strength of research and academic institutions and public/private industries from India and Germany.