Women in United Nations Peacekeeping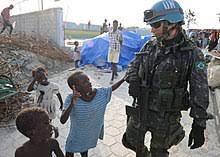 Many women soldiers were training to be a part of a United Nations Peacekeeping mission.
For more than a decade, the United Nations (UN) has called for more participation from women in conflict prevention, post-conflict peacebuilding and peacekeeping.
UN Peacekeeping began in 1948 when the UN Security Council authorised the deployment of UN military observers to the Middle East.
UN Peacekeeping helps countries navigate the difficult path from conflict to peace.
It deploys troops and police from around the world, integrating them with civilian peacekeepers to address a range of mandates set by the UN Security Council (UNSC) and the General Assembly.
For the first time in the history of UN peacekeeping, India sent an all-female Formed Police Unit (FPU) to be deployed in Liberia in 2007 after a civil war ravaged the African nation.
Recently, at the UN Security Council (UNSC), Indian officials called for more female participation in public life and the elimination of violence against them as a prerequisite for promoting lasting peace around the world.
In a profession that continues to be heavily dominated by men, and in a nation that is riddled with gender violence, these female police officers from India are breaking stereotypes to represent their country on the world stage.