Sahityotsa: Festival Of Letters Of Sahitya Akademi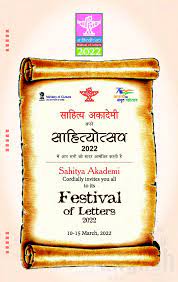 Sahityotsav, the Festival of Letters of Sahitya Akademi, India's most inclusive literature festival will be held from 10th to 15th March 2022 in New Delhi.
Festival of Letters 2022 will be a part of the celebrations to commemorate 75th anniversary of India's Independence.
The Exhibition will showcase Akademi's achievements and seminal events held in the previous year. The prestigious Sahitya Akademi Awards will be presented to the 24 Award winners on 11th March 2022.
The Sahitya Akademi, India's National Academy of Letters, is an organisation dedicated to the promotion of literature in the languages of India.
Founded on 12 March 1954, it is supported by, though independent of, the Indian government (Ministry of Culture).
Its office is located in Rabindra Bhavan in Delhi.
It initially functioned under executive order, but was subsequently registered as a society under the Indian Societies Registration Act, 1860.