Wildlife (Protection) Amendment Bill 2022: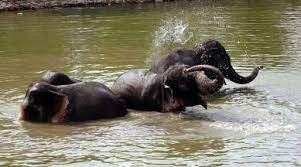 Rajya Sabha passed the Wildlife (Protection) Amendment Bill, 2022 which seeks to conserve and protect wildlife through better management of protected areas and rationalise schedules which list out species under the Wildlife (Protection) Act, 1972.
The Rajya Sabha passed the Wild Life (Protection) Amendment Bill, 2022 which seeks to give effect to India's obligations under the Convention on International Trade on Endangered Species of Wild Fauna and Flora ('CITES').
Objective of Bill:
Protection of Endangered Species: Bill seeks to enhance punishment for illegal Wildlife trade .
Better Management of Protected Areas: It provides for certain permitted activities like grazing or movement of livestock and Bonafide use of drinking and household water by local communities.
Protection of Forest Lands: It is so critical because it equally inculcates in itself the protection of rights of the people who have been residing there since ages.
Proposed Amendments:
This amendment proposed a new schedule for species listed in the Appendices under CITES.
Section 6 has been amended to constitute Standing Committee to exercise such powers and duties as may be delegated to it by the State Board for Wildlife.
Section 43 of the act amended which permitted the use of elephants for 'religious or any other purposes'.

To enable the Central government to appoint a Management Authority Section 49E has been inserted.
To allow the Central Government to appoint a Scientific Authority to provide guidance on matters relating to the impact on the survival of the specimens on being traded.

The Bill also empowers Central government to regulate and stop the import, trade or possession of invasive plant or animal alien species.
The Bill also enhances the penalties prescribed for violation of provisions of the Act.
For 'General violations', maximum fine is increased from 25,000 to 1 lakh.
In case of Specially protected animals, the minimum fine of Rs. 10,000 has been enhanced to Rs. 25,000.