Bill To Amend The Multi-State Cooperative Societies Act: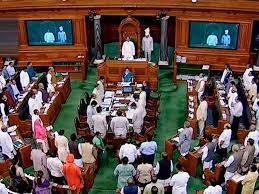 A Bill to amend the Multi-State Cooperative Societies Act was introduced in the Lok Sabha recently.
Multi-State Cooperatives: MSCS is a Cooperative Society with objects to serve the interest of the members in more than one State.
MSCS Act, 2002 was passed to govern such cooperatives whose members and areas of operation are spread across more than one state.
At present, India has more than 1,500 multi-State cooperative societies.
Key amendments suggested:
To establish a "cooperative election authority".
To make provisions for the "appointment of cooperative information officer".
To appoint one or more "cooperative ombudsmen" with territorial jurisdiction to inquire into members' complaints.
Insert a new Section related to the "establishment of the Cooperative Rehabilitation, Reconstruction and Development Fund" for the revival of "sick multi-state cooperative societies"
Insert Section relating to "concurrent audit" for such multi-state societies with an annual turnover or deposit of more than the amount as determined by the Centre.
The merger of "any cooperative society" into an existing multi-state cooperative society.