RBI Monetary Policy 2021: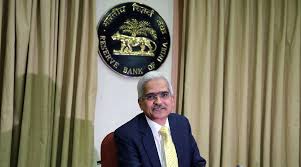 The Reserve Bank of India (RBI) has forecasted that real Gross Domestic Product (GDP), hit by the Covid pandemic in 2020-21, is expected to grow by 10.5% in 2021-22.
RBI had previously introduced a number of measures in its Monetary Policy Report for dealing with the Covid-19 induced economic setback.
GDP Forecast:
The 10.5% real GDP growth in 2021-22 forecasted by RBI will move in the range of 26.2 to 8.3% in the first half and 6% in the third quarter of 2021.
Hit by lockdown and closures of industries, GDP had contracted by 23.9% in the June quarter of 2020-21 and fell by 7.5% in the September quarter of 2020-21.
Real GDP is a measurement of economic output that accounts for the effects of inflation or deflation.
The difference between nominal GDP and real GDP is the adjustment for inflation. Since nominal GDP is calculated using current prices, it does not require any adjustments for inflation.
Unchanged Policy Rates:
The RBI has kept the repo rate under the Liquidity Adjustment Facility (LAF) unchanged at 4%.
The reverse repo rate under the LAF remains unchanged at 3.35% and the Marginal Standing Facility (MSF) rate and the Bank Rate at 4.25%.