World Dairy Summit: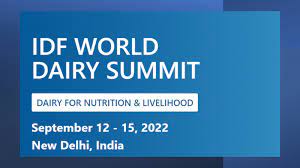 Prime Minister Narendra Modi will inaugurate the World Dairy Summit on 12th September in Noida.
India is organising the summit after almost a 48-year gap bringing together approximately 1500 participants from all over the world including CEOs and employees of dairy processing companies, dairy farmers, and other stakeholders.
Remembering the "Father of White Revolution", Dr Verghese Kurien, it must be pointed out that India currently is the largest milk producer in the world, contributing 21 percent of the total global milk production.
It was under the guidance of former Prime Minister Lal Bahadur Shastri that the National Dairy Development Board was formed in 1965 in Gujarat with Dr Verghese Kurien as its first chairman.
Operation Flood programme was implemented across country in various phases with a mandate to support the creation of the 'Anand pattern' of dairy cooperatives.
The daily milk consumption in the country was 107 grams per person in 1970 which rose to 427 grams per person in 2020-21.