World Immunisation And Logistics Summit: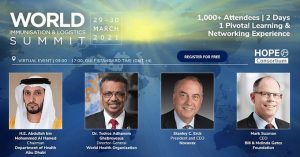 Dr. Harsh Vardhan, Union Minister for Health and Family Welfare digitally participated in a panel discussion on vaccine production and distribution across Asia at the "World Immunisation and Logistics Summit".
The HOPE Consortium's World Immunisation & Logistics Summit opened on March 30, 2021 to enhance collaboration in the world's approach to tackle COVID-19 and ensure a healthier future for all.
The two-day virtual Summit, hosted in by Abu Dhabi, kicked off under the patronage of the Ministry of Foreign Affairs and International Cooperation, with the participation of acclaimed global healthcare and philanthropic leaders, decision-makers, experts and senior government officials, to explore a unified global approach to fighting the COVID-19 pandemic.
HOPE Consortium:
Spearheaded by the Department of Health – Abu Dhabi, who has led the formation of the emirate-wide consortium, the HOPE Consortium brings together leading brands to deliver an end-to-end solution to distribute COVID-19 vaccines globally.