World Food Safety Day 2022 : Theme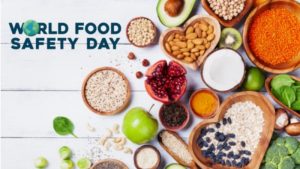 Every Year, 7th June is observed as World Food Safety Day.
The World Health Organization (WHO) and the Food and Agriculture Organization of the United Nations (FAO) jointly facilitate the observance of World Food Safety Day, in collaboration with Member States and other relevant organizations.
It was first celebrated in 2019, to strengthen the commitment to scale up food safety made by the Addis Ababa Conference and the Geneva Forum in 2019 under the umbrella of "The Future of Food Safety".
Aim: To draw attention and inspire action to help prevent, detect and manage foodborne risks, contributing to food security, human health, economic prosperity, agriculture, market access, tourism and sustainable development.
2022 Theme: Safer Food, Better Health
With an estimated 600 million cases of foodborne illnesses annually, unsafe food is a threat to human health and economies, disproportionally affecting vulnerable and marginalized people, especially women and children, populations affected by conflict, and migrants.
An estimated 420000 people around the world die every year after eating contaminated food and children under 5 years of age carry 40% of the foodborne disease burden, with 125 000 deaths every year.