World Intellectual Property Day: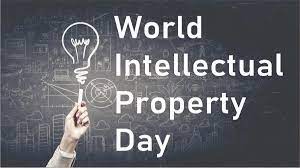 Every year on the 26th of April, World Intellectual Property Day is observed across the globe. This day is celebrated with the aim of raising awareness regarding the impact of how copyright, patents, designs, and trademarks affect our day-to-day life.
Intellectual property (IP) rights are used to encourage creativity and innovation in societies across the world.
The day looks to find the potential of the world's younger generation to find a better solution for the transition to a future that is sustainable.
Intellectual Properties refer to the creations of the mind and they can be in many fields like literary, inventions, artistic works, symbols, designs, images, and names.
IP is a type of non-physical asset that is owned by an individual or a company.
WHO is committed to establish an approachable and balanced system for international intellectual property rights.
Hence, this day plays an important role in helping young creators, inventors, and entrepreneurs to use intellectual property to generate income, achieve their goals, tackle global and local challenges, and create jobs, by supporting national as well as community development.
The World Intellectual Property Organization (WIPO) Convention came into effect in the year 1970 and in 2000, the member states of WIPO declared 26th April as World Intellectual Property.
The theme of 2022 World Intellectual Property Day : IP and Youth innovating for a better future is the theme of this year's World Intellectual Property Day.