World Tuberculosis Day 2022 : Theme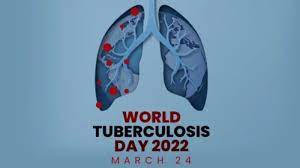 World Tuberculosis (TB) Day is observed on 24th March to spread awareness about the disastrous health, social, and economic consequences of TB and to take efforts to end the TB epidemic globally.
Earlier in 2021, Centenary celebration was observed for the Bacille Calmette-Guérin (BCG) vaccine, which is presently the sole vaccine available for the prevention of TB.
On this day in 1882, Dr. Robert Koch announced the discovery of a Mycobacterium tuberculosis that causes TB and his discovery opened the way towards diagnosing and curing this disease.
Even today the TB is one of the world's deadliest infectious killers.
As per WHO (World Health Organisation), every day, over 4100 people lose their lives to TB and about 28,000 people fall ill with this disease.
Deaths from tuberculosis have risen in 2020 for the first time in more than a decade.
According to the WHO, in 2020, around 9,900,000 people fell ill with TB and died, around 1,500,000. Since the 2000 year, 66,000,000 lives have been saved by efforts taken globally to end TB.
India accounts for around 26% of the total TB cases across the world.
Therefore, World TB Day is observed to educate people around the world about the disease TB and its impact.
Theme for World TB Day 2022:
The theme is "Invest to End TB. Save Lives."
The theme emphasises the critical need to invest resources to accelerate the fight against tuberculosis and meet the commitments made by leaders around the world to end tuberculosis.