Y20 Summit: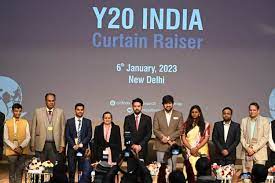 Youth Affairs and Sports Minister Anurag Singh Thakur  launched the themes of the Y20 summit, logo, and website in New Delhi on January 6 in the curtain raiser event of Y20 Summit India.
The Y20 is the official youth engagement group for the G20 (Group of 20), the forum for the world's largest and most advanced economies.
The Y20 is a process which brings together young leaders from across the globe, to discuss and debate global challenges and agree policy recommendations they would like to see G20 leaders take forward.
The list of policy recommendations is known as a communiqué, which is announced publicly at the Y20 Summit and presented to world leaders as part of the official G20 summit.
India is hosting the Y20 summit for the first time.
In Youth 20 Engagement Group, India's key focus is to bring young leaders from all across the globe together and discuss ideas for a better tomorrow and draft an agenda for action.
The activities to be undertaken by Y20 during India's presidency will focus on global youth leadership and partnership.
In a run-up to the final Youth-20 Summit, for the next eight months, there will be Pre summits on the five Y20 themes along with various discussions and seminars at different Universities across the country.