Summit For Democracy: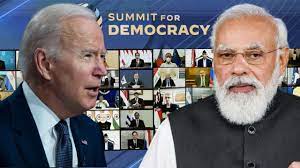 Democracies should jointly deal with social media and cryptocurrencies, Prime Minister Narendra Modi said in a virtual address at the Summit for Democracy, hosted by U.S. President Joe Biden.
The Summit for Democracy was a virtual summit hosted by the United States "to renew democracy at home and confront autocracies abroad" on December 9–10, 2021.
The three themes are defending against authoritarianism, addressing and fighting corruption, and advancing respect for human rights.
The summit was convened by Mr. Biden to strengthen democracies around the world.
Biden announced the establishment of the Presidential Initiative for Democratic Renewal, under which the administration plans to provide $424.4 million for supporting free and independent media, fighting corruption, strengthening democratic reforms, advancing technology for democracy, and defending free and fair elections.