Today Current Affairs: 15th January 2021  for UPSC IAS exams, State PSC exams, SSC CGL, State SSC, RRB, Railways, Banking Exam & IBPS, etc
Contents:
ASMI
Pradhan Mantri Kaushal Vikas Yojana (PMKVY 3.0):
Forest fires in Himachal Pradesh
Impeachment of the President of the USA:
Cereals Exports of India:
Pollution in the Yamuna:
Henley Passport Index 2021:
Other important current affairs
1.ASMI: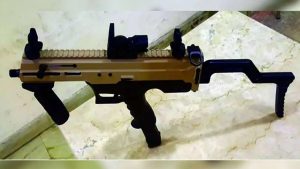 India's first indigenous 9mm Machine Pistol has been jointly developed by DRDO and Indian Army.
The weapon is named "Asmi" meaning "Pride", "Self-Respect" & "Hard Work".
Infantry School, Mhow, and DRDO's Armament Research & Development Establishment (ARDE), Pune have designed and developed this weapon.
The Machine Pistol fires the in-service 9mm ammunition and sports an upper receiver made from aircraft-grade Aluminium and a lower receiver from carbon fibre.
The weapon has huge potential in Armed forces as a personal weapon for heavy weapon detachments, commanders, tank and aircraft crews, drivers/dispatch riders, radio/radar operators, Closed Quarter Battle, counter-insurgency and counter-terrorism operations etc.
This is also likely to find huge employability with the central and state police organizations as well as VIP protection duties and Policing.
The Machine Pistol is likely to have a production cost under rupees 50000 each and has potential for exports.
2.Pradhan Mantri Kaushal Vikas Yojana (PMKVY 3.0):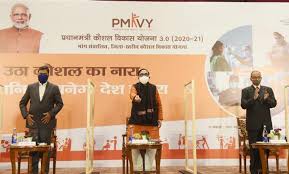 The third phase of Pradhan Mantri Kaushal Vikas Yojana (PMKVY 3.0) will be launched soon. It will be launched in 600 districts across all states of India.
Spearheaded by the Ministry of Skill Development and Entrepreneurship (MSDE), this phase will focus on new-age and COVID-related skills.
About PMKVY 3.0:
Skill India Mission PMKVY 3.0 envisages training of eight lakh candidates over a scheme period of 2020-2021.
The 729 Pradhan Mantri Kaushal Kendras (PMKKs), empanelled non-PMKK training centres and more than 200 ITIs under Skill India will be rolling out PMKVY 3.0 training to build a robust pool of skilled professionals.
On the basis of the learning gained from PMKVY 1.0 and PMKVY 2.0, the Ministry has improved the newer version of the scheme to match the current policy doctrine and energize the skilling ecosystem affected due to the COVID-19 pandemic.
About PMKVY:
Pradhan Mantri Kaushal Vikas Yojana (PMKVY), launched in 2015, is the flagship scheme of the Ministry of Skill Development & Entrepreneurship (MSDE) implemented by National Skill Development Corporation.
The objective of this Skill Certification Scheme: is to enable a large number of Indian youth to take up industry-relevant skill training that will help them in securing a better livelihood.
Individuals with prior learning experience or skills will also be assessed and certified under Recognition of Prior Learning (RPL).
Pradhan Mantri Kaushal Vikas Yojana 2.0 (PMKVY 2.0) 2016-20:
After the successful implementation of pilot PMKVY (2015-16), PMKVY 2016-20 was launched by scaling up both in terms of Sector and Geography and by greater alignment with other missions of Government of India like Make in India, Digital India, Swachh Bharat, etc.
Objectives of PMKVY 2016-20:

Enable and mobilize a large number of youths to take up industry designed quality skill training, become employable and earn their livelihood.
Encourage standardisation of the Certification process and put in place the foundation for creating a registry of skills.
Benefit 10 million youth over the period of four years (2016- 2020).
Skill India Mission:
"Skill India Mission" has gained tremendous momentum through the launch of its flagship scheme PMKVY to unlock the vision of making India the 'Skill Capital' of the world.
3.Forest fires in Himachal Pradesh :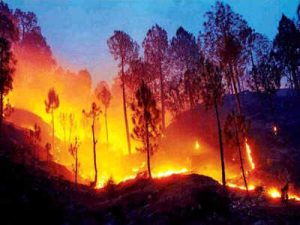 Himachal Pradesh frequently witnesses forest fires during dry weather conditions.
Recently, a forest fire which started near Kullu raged for several days before being brought under control. Forest fires were also reported in Shimla and other parts of the state.
Although two-thirds of the total geographical area of Himachal Pradesh is legally classified as forest area, much of this area is permanently under snow, glaciers, cold desert or alpine meadows and is above the tree line.
As per the Forest Survey of India, the effective forest cover is around 28 percent of the total area which amounts to 15,434 square kilometres.
Chir Pine, Deodar, Oak, Kail, Fir and Spruce are some of the common trees found here.
Except for periods of precipitation in monsoon and winter, the forests remain vulnerable to wildfires.
In the summer season, forest fires occur frequently in the low and middle hills of the state, where forests of Chir Pine are common.
During the post-monsoon season and in winters, forest fires are also reported in higher areas, including parts of Shimla, Kullu, Chamba, Kangra and Mandi districts, where they usually occur in grasslands.
Causes of the fire:
Natural causes such as lightning or rubbing of dry bamboos with each other can sometimes result in fires, but forest officials maintain that almost all forest fires can be attributed to human factors.
Setting up of temporary hearth to cook food by the herdsman and minor forest produce gatherer may leave behind a smouldering fire, it can develop into a forest fire.
Also, when people burn their fields to clear them of stubble, dry grass or undergrowth, the fire sometimes spreads to the adjoining forest.
A spark can also be produced when dry pine needles or leaves fall on an electric pole.
4.Impeachment of the President of the USA: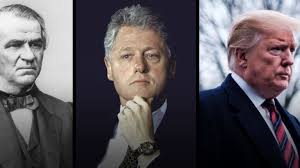 Donald Trump has become the first President of the USA in history to be impeached twice by the House of Representatives. He was charged for inciting an insurrection.
On 6th January, 2021, as the USA Congress assembled to certify President-elect Joe Biden's victory, a mob of Donald Trump supporters occupied the USA Capitol in a failed bid to overturn the election results.
Mechanism of Impeachment of President in USA:
Two Houses: The legislature of the United States of America i.e. Congress of the United States consists of two houses:
The Senate, in which each state, regardless of its size, is represented by two senators.
House of Representatives, to which members are elected on the basis of population.
Reasons for Impeachment: The USA Constitution states that the President can be removed for conviction of treason, bribery, or other high crimes or misdemeanour.
Earlier Impeachments:

Three USA Presidents, Trump in 2019, Bill Clinton in 1998 and Andrew Johnson in 1868, previously were impeached by the House but acquitted by the Senate.
Thus, no USA President ever has been removed from office through impeachment.
Mechanism of Impeachment of President in India:
In India, the President can be removed only for 'violation of the Constitution' and the Constitution does not define the meaning of the phrase 'violation of the Constitution'.
The impeachment charges can be initiated by either House of Parliament – Lok Sabha or Rajya Sabha.
5.Cereals Exports of India: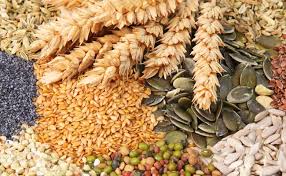 The US Department of Agriculture (USDA) has noted in its latest Grain: World Markets and Trade report that exports of wheat and rice from India are likely to increase.
Findings:
Increase in Wheat Exports: The US Department of Agriculture (USDA) has recently upped its forecast of Indian wheat exports for 2020-21 (July-June) to 1.8 million tonnes (mt), as against its earlier estimate of 1 mt.
Increase in Rice Exports: USDA has also estimated India's rice exports to have hit a record 14.4 mt in 2020, up from the preceding two years.
Causes for Increase in Wheat Exports:
Chinese Stockpiling: The key driver of global price turnaround seems to be China. The reasons for its building strategic stockpiles of everything aren't as fully clear as their effect on international prices.
Rising Global Prices: For example, the Russian government is levying an export tax on wheat in response to high domestic prices. Bangladesh, a potential importer of wheat from Russia is beginning to shift its purchases towards India.
Ultra-low interest rate money increasingly being invested into agri-commodity markets.
In the wake of Covid 19 Pandemic Various Countries such as the USA, India, Russia are reducing their interest rates.
Causes for Rising in Rice Exports:
Impact of drought: The country's closest competitors Thailand and Vietnam have been facing drought leading to declining in rice productivity.
Increase in demand in Bangladesh
Cereals Exports of India:
India is one of the largest producers as well as exporter of cereal products in the world.
The important cereals are – wheat, paddy, sorghum, millet (Bajra), barley and maize.
6. Pollution in the Yamuna: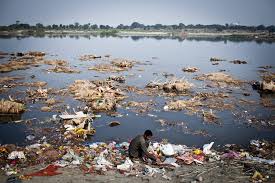 The Supreme Court (SC) has taken suo motu cognizance of pollution of water bodies by untreated sewage.
The SC was hearing an urgent petition filed by the Delhi Jal Board (DJB), to immediately stop Haryana from discharging pollutants into the Yamuna river.
In the 2017 Paryavaran Suraksha Samiti v. Union of India case, the SC directed that norms for generating funds, for setting up and/or operating the Common Effluent Treatment Plant and Sewage Treatment Plants, shall be finalised by the State Pollution Control Board's on or before 31st march 2017.
It was directed that for the purpose of setting up these plants, the state government will prioritise such cities, towns and villages, which discharge industrial pollutants and sewer directly in rivers and water bodies.
SC's Ruling:
Article 243W of the Constitution vests municipalities and local authorities with the performance of functions and implementation of schemes as may be entrusted to them, including those in relation to the matters listed in item 6 of the 12th schedule.
Item 6 of the Schedule includes "public health, sanitation conservancy and solid waste management".
Article 21: The right to clean the environment, and further, pollution-free water, has been protected under the broad rubric of the right to life.
Directions to Central Pollution Control Board (CPCB):
The court directed the CPCB to submit a report identifying municipalities along the river Yamuna, which have not installed total treatment plants for sewage as per the requirement or have gaps in ensuring that the sewage is not discharged untreated into the river.
It asked CPCB to highlight any other source of prominent contamination within the limits of Municipalities and to submit a priority-wise list of Municipalities, the river stretches adjacent to which have been found to be most polluted
7.Henley Passport Index 2021: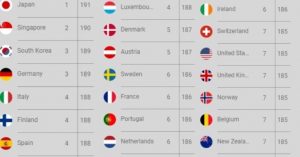 India has been ranked 85th in the most powerful passport report 'Henley Passport Index 2021'.
The Henley Passport Index is the original ranking of all the world's passports according to the number of destinations their holders can access without a prior visa.
Originally created by Dr. Christian H. Kaelin (chairman of Henley & Partners), the ranking is based on exclusive data from the International Air Transport Association (IATA), which maintains the world's largest and most accurate database of travel information.
It was launched in 2006 and includes 199 different passports.
Latest Rankings:
Japan continues to hold the number one position on the index, with passport holders able to access 191 destinations around the world visa-free.
Singapore is in second place (with a score of 190) and South Korea ties with Germany in third place (with a score of 189).
The top spots were traditionally held by EU countries, the UK, or the US. This year, it is the Asia-Pacific (APAC) passports which are the most powerful in the world as it includes some of the first countries to begin the process of recovering from the Covid-19 pandemic.Syria, Iraq and Afghanistan continue to be the countries with the worst passport to hold with a passport score of 29, 28 and 26 respectively.
India's Performance:
India ranks 85th, with a visa-free score of 58.
The Indian passport ranked higher in both 2020 (84th) and 2019 (82nd).
Pakistan was ranked 107th and Nepal was ranked 104th.
Other important current affairs:
1.The apex court has suspended the implementation of the farm laws, and created a committee to ascertain the various grievances.
The judges' intervention on the laws has been questioned by the Attorney General on three grounds.
He also said that a law can be stayed or struck down only on one of these three grounds.
These include:

One is that it has been passed without legislative competence.
Two that it is violative of fundamental rights.
Third that it is violative of other provisions of the Constitution.
2.Science & Technology minister dedicates an Innovation Portal developed by National Innovation Foundation (NIF) – India to the nation.
Innovation Portal is developed by National Innovation Foundation (NIF) – India, an autonomous body of the Department of Science and Technology (DST).
The National Innovation Portal (NIP) is currently home to about 1.15 lakh innovations scouted from common people of the country, covering Engineering, Agriculture, Veterinary and Human Health.
In terms of domain areas, presently the innovations cover Energy, mechanical, automobile, electrical, electronics, household, nutraceuticals etc.
National Innovation Foundation (NIF) – India:

It is an autonomous body of the Department of Science and Technology (DST), Government of India.
Set up in February 2000 at Ahmedabad, Gujarat to provide institutional support for scouting, spawning, sustaining and scaling up the grassroots innovations across the country.
It is India's national initiative to strengthen the grassroots technological innovations and outstanding traditional knowledge.
Its mission is to help India become a creative and knowledge-based society by expanding policy and institutional space for grassroots technological innovators.
3. Chatham House, the century-old UK-based policy institute published a report titled "Global Britain, Global Broker", proposing a blueprint for Britain's future foreign policy after Brexit.
The report groups India on the other side of a "new divide in international affairs — between open societies where citizens have the capacity to fight for their rights and those where these rights are denied".
Along with Russia, Turkey and Saudi Arabia, India is classed as one of the "difficult four" countries, destined to count among the UK's "rivals" or "awkward counterparts" as it pursues its global goals.
The report is "in no way a statement on behalf of the UK government."
Part of the justification for labelling India 'difficult' centres on a critique of India's domestic political developments.
The report also states that India is a reluctant supporter of liberal democracy, is "ambivalent" about human rights abuses within other states, and possesses "a long and consistent record of resisting being corralled into a 'Western camp'"
4.The Union Minister of Science & Technology inaugurated a new institute of Council of Scientific and Industrial Research (CSIR) i.e. CSIR-National Institute of Science Communication and Policy Research (CSIR-NIScPR), in New Delhi.
The new institute has been established consequent to the merger of two prestigious institutes of CSIR namely, CSIR-National Institute of Science Communication and Information Resources (CSIR-NISCAIR) and CSIR-National Institute of Science, Technology and Development Studies (CSIR-NISTADS).
CSIR-NIScPR will serve the society with its core areas of science communication and policy research which has proved to be so important during the Covid19 pandemic.
The MISSION of the institute is to promote STI policy studies and science communication among diverse stakeholders.
5.Fifth Indian Armed Forces Veterans Day was celebrated as a recognition of the services rendered by the first Commander-in-Chief of Indian Armed Forces, Field Marshal KM Cariappa, OBE who retired on 14 Jan 1953.
Army commemorates Armed Forces Veterans Day on 14 January each year as a mark of respect and recognition of the services rendered by our veterans.
This day also coincides with the retirement date of Field Marshal KM Cariappa, OBE, the first Commander-in-Chief (C-in-C) of the Indian Army.
The first Armed Forces Veterans Day was organised on 14 January 2017.
The aim is to strengthen the bond between the Ex-Servicemen and the serving personnel. This is also a forum to enhance the satisfaction levels pertaining to issues of pension and welfare of veterans and their Next of Kin.
Field Marshal Cariappa had seen action in Iraq, Syria, Iran and Burma winning many laurels and accolades during his sterling career.
Field Marshal Cariappa was the Chief of Army Staff from 15 January 1949 to 14 January 1953.
For his illustrious career and contributions to the Nation, he was accorded the rank of Field Marshal in 1986.
Despite his advancing age, he made many visits to the front line troops to boost their morale and motivate them. He was active till his last breath on 15 May 1993, at the age of 94 years.
7.National Security Advisor (NSA) of India visited Afghanistan for talks on strategic issues with the leadership in Kabul.
This visit is significant because it was the first visit by any senior Indian official amidst the Intra-Afghan Talks.
Intra-Afghan talks refer to the negotiation meetings between the Taliban and the Afghan High Council for National Reconciliation (representative of Afghan Government) opened in Doha in 2020.
These talks are facilitated and supervised by the United States, representatives of the Ghani government and the Taliban aimed at ending the decades-old war and forging a political settlement.
Issues discussed:

Exchanged views on the Peace Process, the beginning of 2nd round of (Intra-Afghan) talks, and the role of India in establishing peace in Afghanistan.
Emphasis to synchronise efforts to combat terrorism and maintain peace in Aghanistan which shall become more challenging after the USA troops withdraw after Doha Peace Pact (2020).
Doha Peace Pact: In February 2020, the USA and the Tabilan signed an agreement in Doha, (Qatar's capital) which included:
USA to withdraw all of its troops from Afghanistan in 14 months and would also release Taliban prisoners, held captive by the Afghan government.
Assurance by Taliban that they would not allow transnational jihadist organisations such as al-Qaeda and the Islamic State to use Afganistan as their base and also committed to start direct talks with the Afghan government, which began in September 2020.
8.Archaeologists have discovered the world's oldest known cave art which is a life-sized picture of a wild pig that was painted at least 45,500 years ago in Indonesia.Location:
The picture was found in the Leang Tedongnge cave in a remote valley on the island of Sulawesi, Indonesia.
Sulawesi Warty Pig Painting:

It dates to at least 45,500 years ago.
It shows a pig with a short crest of upright hairs and a pair of horn-like facial warts in front of the eyes, a characteristic feature of adult male Sulawesi warty pigs.
Sulawesi warty pigs were the most commonly portrayed animal in the ice age rock art of the island, suggesting they have long been valued both as food and a focus of creative thinking and artistic expression.
Painted using red ochre pigment, the pig appears to be observing a fight or social interaction between two other warty pigs.