Coastal Erosion: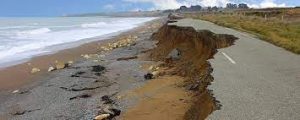 As per the Ministry of Earth Science (MoES) 34% of India's coastline is under erosion. West Bengal has suffered the worst (60.5% of its coast is threatened by erosion).
Coastal Erosion is the process by which local sea-level rise, strong wave action, and coastal flooding wear down or carry away rocks, soils, and/or sands along the coast.
There are four main processes of coastal erosion.
These are corrosion, abrasion, hydraulic action and attrition.
Agency: National Centre for Coastal Research (NCCR) (Under MoES) is monitoring shorelines since 1990.
Impact: Destruction of biodiversity and habitat, loss of fertile land, loss of tourism, etc.
Mitigation: Coastal erosion structures Seawalls, revetments, bulkheads, groins and breakwaters may reduce erosion in the short term.
Indian National Centre for Ocean Information Services (INCOIS)has prepared and published an atlas of Coastal Vulnerability Index (CVI) maps for the entire coastline
Integrated Coastal Zone Management Plan (ICZM): It ensures optimum suitable use of coastal natural resources
National centre for Sustainable coastal management (NSCSCM): To research the areas of CZM including coastal resources and the environment.