Daily Current Affairs for Government Exams:
Today Current Affairs: 16th December 2020 for UPSC IAS exams, State PSC exams, SSC CGL, State SSC, RRB, Railways, Banking Exam & IBPS, etc
Contents:
Review petition
National Family Health Survey-5 (NFHS-5)
12th GRIHA Summit:
Overseas Citizens of India (OCI):
S-400 air defense missile system:
Himalayan Serow:
India Water Impact Summit 2020:
Other important current affairs
1.Review petition :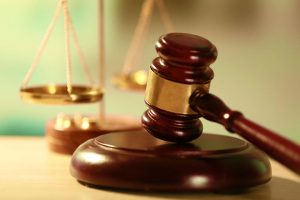 Activist-lawyer Prashant Bhushan has moved the Supreme Court seeking a direction that his two pleas, in which he has sought review of the orders convicting and sentencing him for contempt of court, be heard after adjudication of his separate petition raising the issue of right to appeal in such matter.
A judgment of the Supreme Court becomes the law of the land, according to the Constitution.
It is final because it provides certainty for deciding future cases.
However, the Constitution itself gives, under Article 137, the Supreme Court the power to review any of its judgments or orders.
This departure from the Supreme Court's final authority is entertained under specific, narrow grounds.
So, when a review takes place, the law is that it is allowed not to take fresh stock of the case but to correct grave errors that have resulted in the miscarriage of justice.
In a 1975 ruling, Justice Krishna Iyer said a review can be accepted "only where a glaring omission or patent mistake or like grave error has crept in earlier by judicial fallibility".
A review is by no means an appeal in disguise.
That means the Court is allowed not to take fresh stock of the case but to correct grave errors that have resulted in the miscarriage of justice.
Filing Review Petition:
As per the Civil Procedure Code and the Supreme Court Rules, any person aggrieved by a ruling can seek a review.
This implies that it is not necessary that only parties to a case can seek a review of the judgment.
A Review Petition has to be filed within 30 days of the date of judgment or order.
In certain circumstances, the court can condone the delay in filing the review petition if the petitioner can establish strong reasons that justify the delay.
The rules state that review petitions would ordinarily be entertained without oral arguments by lawyers.
It is heard "through circulation" by the judges in their chambers.
Review petitions are also heard, as far as practicable, by the same combination of judges who delivered the order or judgment that is sought to be reviewed.
If a judge has retired or is unavailable, a replacement is made keeping in mind the seniority of judges.
In exceptional cases, the court allows an oral hearing. In a 2014 case, the Supreme Court held that review petitions in all death penalty cases will be heard in open court by a Bench of three judges.
2.National Family Health Survey-5 (NFHS-5):

The fifth-phase data of the National Family Health Survey-5 (NFHS-5) 2019-20 has been released by the Ministry of Health and Family Welfare, which provided data on various issues related to women in India.
Key Points
Total Fertility Rate (TFR):
Sikkim recorded the lowest TFR, with one woman bearing 1.1 children on average; Bihar recorded the highest TFR of three children per woman.
In 19 of the 22 surveyed states, TFRs were found to be 'below-replacement level (2.1)'.
TFR indicates the average number of children expected to be born to a woman during her reproductive span of 15-49 years.
Anemia among Women:
More than half of the children and women are anemic in 13 of the 22 States/UTs.
In all the states, anaemia is much higher among women compared to men.
Contraception:
Female sterilization continues to dominate as the modern method of contraception in states like Andhra Pradesh (98%), Telangana (93%), Kerala (88%), Karnataka (84%), Bihar (78%) and Maharashtra (77%).
Overall Contraceptive Prevalence Rate (CPR) has increased substantially in most States/UTs and it is the highest in HP and WB (74%).
Child Marriages:
There has been an increase in child marriages in Tripura (40.1% from 33.1% in 2015-16), Manipur (16.3% from 13.7% in 2015-16) and Assam (31.8% from 30.8 % in 2015-16),
States like West Bengal (41.6%) and Bihar (40.8%) still have high prevalence of child marriages.
States such as Tripura, Manipur, Andhra Pradesh, Himachal Pradesh and Nagaland have also shown an increase in teenage pregnancies.
Domestic/Spousal Violence:
It has generally declined in most of the states and UTs.
However, it has witnessed an increase in five states, namely Sikkim, Maharashtra, Himachal Pradesh, Assam and Karnataka.
Karnataka witnessed the largest increase in spousal violence, from 20.6% in NFHS 4 to 44.4% in NFHS-5.
Sexual violence has increased in five states (Assam, Karnataka, Maharashtra, Meghalaya and West Bengal).
Institutional Births:
Have increased substantially with over four-fifth of the women delivering in institutions in 19 States and UTs.
Institutional delivery is over 90% in 14 out of the total 22 States and UTs.
Caesarean (C-section) Deliveries:
The international healthcare community has considered the ideal rate for cesarean sections to be between 10% and 15%.
States such as Telangana, West Bengal, Himachal Pradesh, and some in the northeast, have shown a jump in C-section deliveries, especially at private healthcare facilities, in the last five years.
In some states like Telangana and West Bengal, the C-section deliveries, at private healthcare facilities rose up to 81% and 82%.
Sex Ratio at Birth:
SRB has remained unchanged or increased in most States/UTs.
The majority of the states are in normal sex ratio of 952 or above.
SRB is below 900 in Telangana, Himachal Pradesh, Goa, DNH & DD.
Child Nutrition:
Child nutrition indicators show a mixed pattern across states. While the situation improved in many States/UTs, there has been minor deterioration in others.
Financial Inclusion:
Considerable progress has been recorded between NFHS-4 and NFHS-5 in regard to women operating bank accounts.
Sanitation and Clean Air:
The percentage of households with improved sanitation facilities and clean fuel for cooking has increased in almost all the 22 States/UTs over the last four years (from 2015-16 to 2019-20).
The Government of India has made concerted efforts to provide toilet facilities to maximum households through Swachh Bharat Mission, and improved household environment through Pradhan Mantri Ujjwala Yojana in the country.
NFHS :
It is a large-scale, multi-round survey conducted in a representative sample of households throughout India.
Phase-I provides data for 22 states/UTs and the fieldwork in the remaining 14 (Phase-II) States/UTs is in progress.
All NFHSs have been conducted under the stewardship of the Ministry of Health and Family Welfare, Government of India, with the International Institute for Population Sciences (IIPS) Mumbai, serving as the nodal agency.
3.12th GRIHA Summit: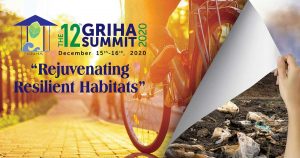 The inaugural session of the 12th Green Rating for Integrated Habitat Assessment (GRIHA) Summit was organized virtually.
12th GRIHA Summit:
Theme: Rejuvenating Resilient Habitats.
Purpose: To serve as a platform to deliberate on innovative technologies and solutions which shall help in creating robust mechanisms for developing sustainable and resilient solutions for the benefit of the entire community.
Launch Event: The Vice President of India launched the SHASHWAT magazine and the book '30 Stories Beyond Buildings' during the event.
Green Rating for Integrated Habitat Assessment (GRIHA):
It is the national rating system of India for any completed building construction.
GRIHA is recognized as India's own green building rating system in India's Intended Nationally Determined Contributions (INDC) submitted to the United Nations Framework Convention on Climate Change (UNFCCC).
Created By: It was conceived by The Energy and Resources Institute (TERI) and developed jointly with the Ministry of New and Renewable Energy.
4.Overseas Citizens of India (OCI):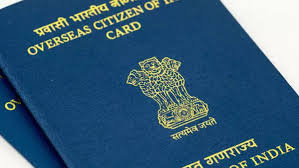 Recently, the High Court of Karnataka held that: Students under the Overseas Citizens of India (OCI) category are to be considered as "citizens of India" for admission to professional courses.
An appeal was filed by the Karnataka state government against the April 2019 single- judge verdict, which had also allowed OCI students to seek admission to professional courses in the regular quota of seats.
The state government wants to restrict their admission only under the NRI quota.
The government of India launched the 'Overseas Citizenship of India (OCI) Scheme' by making amendments to Citizenship Act, 1955 in 2005.
On 09 January 2015, the Government of India discontinued the PIO card and merged it with OCI card.
The government of India allows the following categories of foreign nationals to apply for OCI Card.
Benefits for OCI cardholders:
Lifelong Visa to visit India multiple times. (special permission needed for research work in India).
No need to register with Foreigners Regional Registration Officer (FRRO) or Foreigners Registration Officer (FRO) for any length of stay.
Except for the acquisition of agricultural and plantation properties, OCI cardholders have similar facilities that are extended to NRIs in economic, financial and educational fields.
Same treatment as of NRIs in respect to Inter-country adoption of Indian children.
Also treated at par with NRIs regarding – entry fees for national monuments, practice of professions like doctors, dentists, nurses, advocates, architects, Chartered Accountants & Pharmacists.
At par with NRIs to participate in All India Pre-medical tests and such.
Treated at par with Indian citizens in matters of traffic in airfares in Indian domestic sectors.
Same entry fee as for Indians for entry into India's national parks and wildlife sanctuaries.
OCI booklet can be used as identification to avail services. An affidavit can be attached with local address as residential proof.
Restrictions placed on OCI cardholders:
Do not have the right to vote.
Do not have the right to any public service/government jobs
Cannot hold offices of – Prime Minister, President, Vice -President, Judge of Supreme Court and High Court, member of Parliament or Member of state legislative assembly or council.
Cannot own agricultural property.
5.S-400 air defense missile system: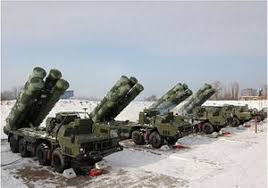 The United States has imposed sanctions (Under CAATSA) on Turkey over Ankara's acquisition of Russian S-400 air defense systems.
The S-400 Triumf is a mobile, surface-to-air missile system (SAM) designed by Russia.
It is the most dangerous operationally deployed modern long-range SAM (MLR SAM) in the world, considered much ahead of the US-developed Terminal High Altitude Area Defense system (THAAD).
India's acquisition is crucial to counter attacks in a two-front war, including even high-end F-35 US fighter aircraft.
CAATSA:
Countering America's Adversaries through the tions Act (CAATSA)'s core objective is to counter Iran, Russia and North Korea through punitive measures.
The Act primarily deals with sanctions on Russian interests such as its oil and gas industry, defense and security sector, and financial institutions, in the backdrop of its military intervention in Ukraine and its alleged meddling in the 2016 US Presidential elections.
Following the US elections and allegations of Russian meddling some call it collusion in the US elections, the strain between Washington and Moscow has reached a new level.
Angry with Moscow's actions around the world, US lawmakers are hoping to hit Russia where it hurts most, its defense and energy business, through CAATSA.
As per the Stockholm International Peace Research Institute (SIPRI) Arms Transfer Database, during the period 2010-17, Russia was the top arms supplier to India.
Most of India's weapons are of Soviet/Russian origin – nuclear submarine INS Chakra, the Kilo-class conventional submarine, the supersonic Brahmos cruise missile, the MiG 21/27/29 and Su-30 MKI fighters, IL-76/78 transport planes, T-72 and T-90 tanks, Mi-series of helicopters, and Vikramaditya aircraft carrier
Therefore, CAATSA impacts Indo-US ties and dents the image of the US as a reliable partner.
While India has got a waiver from the outgoing Trump administration on the S-400 air defense system, Delhi hopes that the incoming Biden administration would not work towards reversing the decision.
6.Himalayan Serow: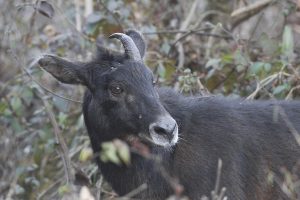 A Himalayan serow has been sighted for the first time in the Himalayan cold desert region (Spiti, Himachal Pradesh).
Himalayan serow resembles a cross between a goat, a donkey, a cow, and a pig.
It's a medium-sized mammal with a large head, thick neck, short limbs, long, mule-like ears, and a coat of dark hair.
The Himalayan serow, or Capricornis sumatraensis thar, is restricted to the Himalayan region.
Taxonomically, it is a subspecies of the mainland serow (Capricornis sumatraensis).
Himalayan serows are herbivores.
They are typically found at altitudes between 2,000 metres and 4,000 metres. They are known to be found in eastern, central, and western Himalayas, but not in the Trans Himalayan region.
The Trans-Himalayas Mountain Region or Tibet Himalayan Region is located to the north of the Great Himalayas which consists of Karakoram, Ladakh, Zaskar and Kailash mountain ranges.
Conservation Status:

IUCN Red List: Vulnerable
CITES Appendix I
The Wildlife Protection Act, 1972: Schedule I
7.India Water Impact Summit 2020: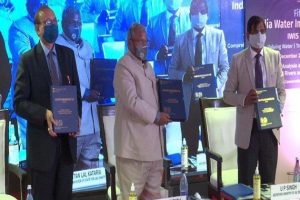 The 5th India Water Impact Summit (IWIS), organised by the National Mission for Clean Ganga (NMCG) and Center for Ganga River Basin Management and Studies (cGanga) has held virtually.
India Water Impact 2020 is a five-day-long summit, hosting experts and academicians from all over the world to discuss and debate issues related to water conservation, water security and river rejuvenation.
Theme: Comprehensive analysis and holistic management of local rivers and water bodies with focus on Arth Ganga – river conservation synchronized development.
At the event, the Norwegian Institute of Bioeconomy Research signed an MoU with cGanga for development of a sludge management framework in India.
National Mission for Clean Ganga (NMCG):
It is the implementation wing of the National Council for Rejuvenation, Protection, and Management of River Ganga also known as National Ganga Council (set in 2016; which replaced the NRGBA).
NMCG was established in the year 2011 as a registered society.
It has a two-tier management structure and comprises the Governing Council and Executive Committee.
The aims and objectives of NMCG are: To ensure effective control of pollution and rejuvenation of the river Ganga by adopting a river basin approach to promote inter-sectoral coordination for comprehensive planning and management.
To maintain minimum ecological flows in the river Ganga with the aim of ensuring water quality and environmentally sustainable development.
Other important current affairs:
1.Recently, a rapid decline in minimum temperature in Delhi was noted from 14.4 degrees Celsius to 4.1 degrees.
The dip was five degrees below the normal temperature for this time of the year.
There has been a significant amount of snowfall over the past few days in states falling in the western Himalayan range Jammu & Kashmir, Himachal Pradesh and Uttarakhand under the influence of a Western Disturbance.
Snowfall in the western Himalayan range means cold, north-westerly winds blowing over Delhi from the direction of this high altitude area, and clearing of cloud cover with the passing of Western Disturbance, and leads to a fall in temperatures.
The lack of cloud cover also leads to higher radiation from the Earth's surface into the atmosphere at night time, which also cools the ground.
Moreover, under the influence of an active La Niña climate pattern, temperatures across the globe have been dipping.
A Western Disturbance, labeled as an extra-tropical storm originating in the Mediterranean, is an area of low pressure that brings sudden showers, snow, and fog in northwest India.
2.The Election Commission has named a few countries where it would like to have postal voting introduced for NRIs on a pilot basis.
The proposal may get implemented first for voters based in the United States, Canada, New Zealand, Japan, Australia, Germany, France, and South Africa.
According to a UN report of 2015, India's diaspora population is the largest in the world at 16 million people.
Registration of NRI voters, in comparison, has been very low: a little over 1 lakh overseas Indians registered as voters in India, according to the EC.
In last year's Lok Sabha elections, roughly 25,000 of them flew to India to vote.
Out of 1.18 lakh NRI voters, the largest number — about 89,000 — are registered to vote in Kerala. The second-largest cohort (roughly 7,500) are registered in Andhra Pradesh.
Holding a democratic exercise, involving voters queuing outside Indian Missions and Embassies, in non-democratic countries will require permissions, and the host nation may not approve.
Given these concerns, the EC, for now, hasn't included Gulf countries in its proposed pilot.
3.BSF and NCRB data says:In the past four years, nearly twice the number of illegal Bangladeshi migrants were caught leaving the country compared to those coming in illegally.
Till December 14 this year, as many as 3,173 illegal migrants were apprehended by the BSF when they were attempting to cross over to Bangladesh, three times more than the 1,115 caught while trying to enter India through illegal means.
In 2019, 2018 and 2017, the numbers of Bangladeshis leaving the country stood at 2,638, 2,971 and 821 respectively, compared to the 1,351, 1,118 and 871 persons respectively who entered illegally.
Another official added that there had been a surge in numbers of illegal Bangladeshis leaving the country due to the lack of work following the COVID-19 pandemic and the subsequent lockdown.
4.India will celebrate 50 Years of Indo-Pak War, also called Swarnim Vijay Varsh on 16th December 2020.
The inaugural event of the celebration will be held at the National War Memorial (NWM) in New Delhi which will be attended by the Prime Minister.
The National War Memorial is a tribute to the soldiers who laid down their lives defending the nation, post-independence it also commemorates the soldiers who participated and made the supreme sacrifice in Peacekeeping Missions, and Counter Insurgency Operations.
Vijay Diwas is observed on 16th December every year to mark India's victory over Pakistan in the 1971 war.
The Government of India decided on 3rd December 1971, that India would go for war with Pakistan to save Bengali Muslims and Hindus.
This war was fought between India and Pakistan for 13 days.
On 16th December 1971, the chief of the Pakistani forces with 93,000 soldiers had surrendered unconditionally to the allied forces consisting of Indian Army and Mukti Bahini in Dhaka.
Mukti Bahini refers to the armed organizations that fought against the Pakistan Army during the Bangladesh Liberation War.
It was a guerrilla resistance movement.
Bangladesh was born on this day. Hence, Bangladesh celebrates its independence day (Bijoy Dibos) on 16th December every year.