Daily Current Affairs for Government Exams:
Today Current Affairs: 15th December 2020 for UPSC IAS exams, State PSC exams, SSC CGL, State SSC, RRB, Railways, Banking Exam & IBPS, etc
Contents:
Geminids meteor shower:
Model code of conduct:
Ayushman Bharat Pradhan Mantri Jan Arogya Yojana (PM-JAY):
Vision 2035: Public Health Surveillance in India':
Database of Migrants:
Mucormycosis.:
Brexit trade deal:
The 'State of the Education Report for India 2020:
Other important current affairs
1.Geminids meteor shower: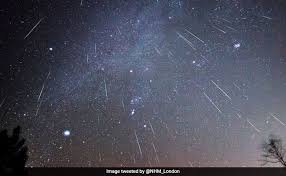 The Geminids meteor shower, believed to be the strongest of the year, is active from December 4-December 20, with December 13 and 14 considered to be the best nights for viewing these meteor showers.
Meteor showers:
Meteors are bits of rock and ice that are ejected from comets as they manoeuvre around their orbits around the sun.
Meteor showers are witnessed when Earth passes through the trail of debris left behind by a comet or an asteroid.
The Geminids meteor showers are unique because their origin does not lie in a comet, but what is believed to be an asteroid or an extinct comet.
The Geminids emerge from 3200 Phaethon, which meteor scientists consider to be an asteroid.
The asteroid is over 5 km in diameter and was named after the Greek myth of Phaethon, the son of Sun god Helios.
According to NASA, the Geminids rate will be better this year because the shower's peak overlaps with a nearly new moon, which means there will be darker skies and no moonlight to wash out the fainter meteors.
2.Model code of conduct:
The State Election Commission (SEC) has sought an explanation from Kerala Chief Minister Pinarayi Vijayan on the complaint that he had violated the model code of conduct with his announcement that COVID-19 vaccination will be provided free of cost to everyone in the State.
Model Code of Conduct(MCC):
These are the guidelines issued by the Election Commission of India for the conduct of political parties and candidates during elections mainly with respect to speeches, polling day, polling booths, election manifestos, processions and general conduct.
This is in keeping with Article 324 of the Constitution, which mandates EC to conduct free and fair elections to the Parliament and State Legislatures.
Aim: To ensure free and fair elections.
So far, the Model Code of Conduct came into force immediately on announcement of the election schedule by the commission.
The Code remains in force till the end of the electoral process.
The need for such code is in the interest of free and fair elections. However, the code does not have any specific statutory basis. It has only a persuasive effect. It contains what is known as "rules of electoral morality". But this lack of statutory backing does not prevent the Commission from enforcing it.
The Commission issued the code for the first time in 1971 (5th Election) and revised it from time to time.
This set of norms has been evolved with the consensus of political parties who have consented to abide by the principles embodied in the said code and also binds them to respect and observe it in its letter and spirit.
The salient features of the Model Code of Conduct lay down how political parties, contesting candidates and party(s) in power should conduct themselves during the process of elections i.e. on their general conduct during electioneering, holding meetings and processions, poll day activities and functioning of the party in power etc.
3.Ayushman Bharat Pradhan Mantri Jan Arogya Yojana (PM-JAY):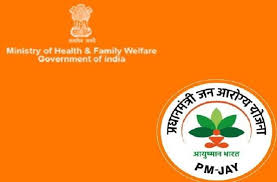 The National Health Agency (NHA) has released its data on "The role of private hospitals".
Key findings:
Patients seeking care at private hospitals tend to be older and a larger share consist of men compared with those seeking medical care at public hospitals.
Private hospitals account for over half of the empanelled hospitals, nearly two-thirds of claim volumes, and three-quarters of claim outlays in the Ayushman Bharat Pradhan Mantri Jan Arogya Yojana (PM-JAY).
The top PM-JAY packages by value — including knee replacement, cataracts, haemodialysis and cardiovascular surgeries — are overwhelmingly provided by private hospitals.
Over 72% of private empanelled hospitals are located in just seven states: Uttar Pradesh, Rajasthan, Tamil Nadu, Gujarat, Maharashtra, Punjab and Karnataka.
Medical audits have also revealed that private hospitals are more likely to indulge in fraud and abuse than public hospitals and more likely to discharge patients early post-surgery to cut costs.
Ensuring the accountability of private hospitals to provide efficient and high-quality care is a pre-eminent challenge for scheme implementation.
There is huge State-wise variation in the share of empanelled private hospitals from less than 25% in most of the northeastern and hill States to 80% in Maharashtra.
Private hospitals have fewer beds than public hospitals and are more likely to be empanelled for surgical packages and super-specialties.
PM-JAY:
The world's largest health insurance/ assurance scheme is centrally sponsored and is jointly funded by both the central government and the states.
It provides cover of 5 lakhs per family per year, for secondary and tertiary care hospitalization across public and private empaneled hospitals in India.
Coverage: Over 10.74 crore poor and vulnerable entitled families (approximately 50 crore beneficiaries) are eligible for these benefits.
Provides cashless access to health care services for the beneficiary at the point of service.
Eligibility:

No restrictions on family size, age or gender.
All pre-existing conditions are covered from day one.
Covers up to 3 days of pre-hospitalization and 15 days post-hospitalization expenses such as diagnostics and medicines.
Benefits of the scheme are portable across the country.
Services include approximately 1,393 procedures covering all the costs related to treatment, including but not limited to drugs, supplies, diagnostic services, physician's fees, room charges, surgeon charges, OT and ICU charges etc.
Public hospitals are reimbursed for the healthcare services at par with the private hospitals.
4.Vision 2035: Public Health Surveillance in India':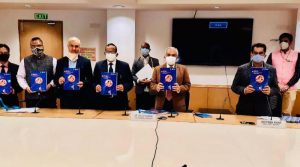 NITI Aayog has released a white paper: Vision 2035: Public Health Surveillance in India with the vision:
To make India's public health surveillance system more responsive and predictive to enhance preparedness for action at all levels.
The citizen-friendly public health surveillance system will ensure individual privacy and confidentiality, enabled with a client feedback mechanism.
The improved data-sharing mechanism between Centre and states for better disease detection, prevention, and control.
India aims to provide regional and global leadership in managing events that constitute a public health emergency of international concern.
It contributes by suggesting mainstreaming of surveillance by making individual electronic health records the basis for surveillance.
Public health surveillance (PHS) is an important function that cuts across primary, secondary, and tertiary levels of care. Surveillance is 'Information for Action'.
It envisions a citizen-friendly public health system, which will involve stakeholders at all levels, be it individual, community, health care facilities or laboratories, all while protecting the individual's privacy and confidentiality.'
The white paper lays out India's vision 2035 for public health surveillance through the integration of the three-tiered public health system into Ayushman Bharat.
It also spells out the need for expanded referral networks and enhanced laboratory capacity.
5.Database of Migrants: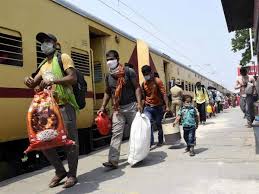 The Government has decided to create a database of migrant workers, including workers in the informal economy.
Migration is the movement of people away from their usual place of residence, across either internal (within-country) or international (across countries) borders. The latest government data on migration comes from the 2011 Census.
As per the Census, India had 45.6 crore migrants in 2011 (38% of the population) compared to 31.5 crore migrants in 2001 (31% of the population).
Key Points
The Inter-State Migrant Workmen Act, 1979, required all establishments who hired inter-state migrants to be registered, as well as all contractors who recruited these workers to be licensed.
Proper implementation of this law would have ensured information on inter-state migrants to aid the state machinery in its relief efforts.
However, no such detailed records were maintained, and information on the number of migrants was unavailable to both central and state governments.
A comprehensive database for migrant and other unorganised sector workers is seen as necessary in the wake of the Covid-19 pandemic.
Causes for Migration:
Migration is a global phenomenon caused not only by economic factors but many other factors like social, political, cultural, environmental, health, education are included under the broader classification of Push and
Pull factors of migration:
Push Factor: Push factors are those that compel a person, due to different reasons, to leave a place of origin (out-migration) and migrate to some other place.
Pull Factor: Pull factors indicate the factors which attract migrants (in-migration) to an area (destination).
Patterns of Migration:
Internal migrant flows can be classified on the basis of origin and destination:

Rural-rural, rural-urban, urban-rural, and urban-urban.

Another way to classify migration is:

Intra-state, and inter-state.

As of 2011, Uttar Pradesh and Bihar were the largest sources of inter-state migrants while Maharashtra and Delhi were the largest receiver states. Around 83 lakh residents of Uttar Pradesh and 63 lakh residents of Bihar had moved either temporarily or permanently to other states.
Plan for the Database:
The plan aims to get data from existing databases of government schemes such as MGNREGA, and the one nation-one ration card to create a unique registration of migrant workers.
Details of those working in unorganised sectors not covered by such schemes, are likely to be added separately.
Aadhaar platform would be used to address the problem of duplicity and ghost cards.
6.Mucormycosis.: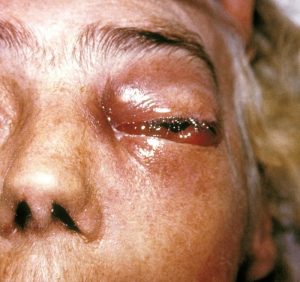 Doctors have witnessed increased cases of Covid-19 triggered Mucormycosis.
The reduced immunity of Covid-19 patients makes them more susceptible to this fungal infection.
Mucormycosis is also called Black Fungus or Zygomycosis and is a serious but rare fungal infection caused by a group of molds called mucormycetes.
Transmission:
It occurs through inhalation, inoculation, or ingestion of spores from the environment.
For example, the lung or sinus forms of the infection can occur after someone inhales the spores from the air.
Mucormycosis does not spread between people or between people and animals.
It usually occurs in people who have health problems or take medicines that lower the body's ability to fight germs and sickness.
Symptoms:
General symptoms are one-sided facial swelling and numbness, headache, nasal or sinus congestion, black lesions on nasal bridge or upper inside of the mouth, fever, abdominal pain, nausea and gastrointestinal bleeding.
Disseminated mucormycosis typically occurs in people who are already sick from other medical conditions, so it can be difficult to know which symptoms are related to mucormycosis.
Patients with disseminated infection in the brain can developmental status changes or coma.
7. Brexit trade deal: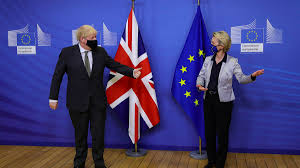 The UK and the European Union (EU) have agreed to continue Brexit trade deal talks and abandon the 31st December deadline, the end of the transition period for a post-Brexit trade agreement.
Under the Withdrawal agreement between the UK and the EU, a transition period of 11 months was finalised until 31st December 2020.
During this period, the UK continues to participate in the EU's Customs Union and in the Single Market.
The transition period makes sure that there is not a sudden shock but a degree of continuity that allows both parties to secure an orderly Brexit, minimising disruption for the citizens, businesses, public administrations, as well as for the international partners.
In the negotiations on the post-Brexit trade agreement, significant differences remain on three critical issues: level playing field, governance and fisheries.
Deadlock over the EU's demands for a mechanism that would make tariff-free trade with the both sides maintaining fair competition for business through a regulatory "level playing field".
The UK rejected "evolution mechanism" or "equivalence mechanism". This mechanism intends to deter the UK from undercutting the EU if the bloc decides to raise its standards in areas such as environmental rules or workers' rights.
The UK could not accept a deal that left it bound to EU rules in the future.
The UK wants to strike out a deal through bilateral talks with EU leaders.
However, the EU had already proposed that the mechanism should be administered by a joint committee of EU-UK officials, with the arbitration in case of disputes and the negotiations must be conducted on behalf of all of the bloc's 27 member states by the committee.
The key focus is over access to UK waters by the EU's fishing fleets.
According to reports, France is leading the charge in this area and demanding access rights for at least 10 years, a demand the UK is unwilling to give in to, claiming it fails to meet its take back control criteria for leaving the bloc.
8.The 'State of the Education Report for India 2020: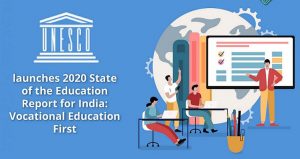 The 'State of the Education Report for India 2020: Technical and Vocational Education and Training (TVET), was launched virtually today by UNESCO New Delhi, with over 400 attendees, including representatives from the government, civil society, academia, partners and youth.
The second edition of the State of Education Report focuses on technical and vocational education and training (TVET).
India has made considerable progress towards its goal of creating a skilled workforce of 110 million people by 2022, as stated in the National Policy of Skill Development and Entrepreneurship (NPSDE), released in 2015.
It is presently training 10 million youth annually through the many schemes that are ongoing.
The Report outlines a set of ten recommendations that should be adopted to help achieve the stated vision for TVET in the country.
The ten recommendations are:
Place learners and their aspirations at the center of vocational education and training programs
Create an appropriate ecosystem for teachers, trainers, and assessors
Focus on upskilling, re-skilling, and lifelong learning
Ensure inclusive access to TVET for women, differently-abled and disadvantaged learners
Massively expand the digitalization of vocational education and training
Support local communities to generate livelihoods by engaging in the preservation of tangible and intangible cultural heritage
Align better with the 2030 Agenda for Sustainable Development
Deploy innovative models of financing TVET
Expand evidence-based research for better planning and monitoring
Establish a robust coordinating mechanism for inter-ministerial cooperation
Other important current affairs:
1.Members of all parties have unanimously asked the government to release funds for the projects sanctioned in 2018 and 2019, which were underway before the funds were suspended due the COVID-19 pandemic.
In their representations, the MPs had argued that the funds become more critical during the pandemic.
The Union government had resorted to Disaster Management Act to suspend the member of Parliament local area development (MPLAD) scheme in April this year.
MPLAD scheme:

Launched in December, 1993.
Seeks to provide a mechanism for the Members of Parliament to recommend works of developmental nature for creation of durable community assets and for provision of basic facilities including community infrastructure, based on locally felt needs.
The MPLADS is a Plan Scheme fully funded by Government of India.
The annual MPLADS fund entitlement per MP constituency is Rs. 5 crore.
MPs are to recommend every year, works costing at least 15 per cent of the MPLADS entitlement for the year for areas inhabited by Scheduled Caste population and 7.5 per cent for areas inhabited by S.T. population.
In order to encourage trusts and societies for the betterment of tribal people, a ceiling of Rs. 75 lakh is stipulated for building assets by trusts and societies subject to conditions prescribed in the scheme guidelines.
2.According to a report published by ChildLine India the pandemic and the subsequent lockdown have proved to be new drivers of child marriages in rural Madhya Pradesh.
Madhya Pradesh recorded 46 child marriages between November 2019 and March 2020, a figure that jumped to 117 in just three months of the lockdown from April to June 2020.
Across India 5,214 child marriages were reported in the first four months of lockdown between March to June.
3.Himgiri', the first of the three Project 17A ships being built at M/s Garden Reach Shipbuilders and Engineers Limited (GRSE), Kolkata was launched on 14 December 2020.
The ship has taken its name and crest of the second Frigate of the Leander Class of ships, which incidentally was launched 50 years ago in 1970.
Under the Project 17A program, a total of seven ships, four at Mazagon Dock Shipbuilders Limited (MDL) and three ships at GRSE are being built with enhanced stealth features, advanced indigenous weapon and sensor fit along with several other improvements.
P17A ships are the first gas turbine propulsion and largest combat platforms ever built at GRSE.
P17A ships have been indigenously designed by the Directorate of Naval Design (Surface Ship Design Group) – DND(SSG), and are being built at indigenous yards namely MDL and GRSE.
4.Prime Minister Narendra Modi will visit Gujarat on December 15, 2020, to lay foundation stones for several development projects in the state.
Hybrid Renewable Energy Park is the world's biggest Renewable Energy Park, being set up close to Indo Pak border, near Khavda village in Kutch district.
It will produce 30 Giga watt solar and wind energy on a vast expanse of wasteland situated beyond India bridge from Khavda village to Vighakot, where civilian access is not permitted and area is controlled by BSF and Indian Army.
The PM will also lay foundation stone virtually for a desalination plant coming up at Gundiyali village near Mandvi in Kutch district. This plant aims to convert seawater for potable purposes for a population of 8 lakh of 300 villages.
The desalination plant assumes great importance for the Kutch peninsula which is a perennial rain-deficit area with no other source of water.
Fully automated milk processing of Sarhad dairy: Prime Minister Modi will also lay foundation stone, virtually, for 130 crore rupees milk processing plant of Sarhad dairy, an apex dairy cooperative entity.
This massive 2 lakh litre per day milk processing and packaging facility will come up under Rashtriya Kisan Vikas Yojna.