Today Current Affairs: 18th January 2021  for UPSC IAS exams, State PSC exams, SSC CGL, State SSC, RRB, Railways, Banking Exam & IBPS, etc
Contents:
Jallikattu:
Open Skies Treaty (OST):
47th G7 Summit:
Uighurs:
K-Shaped Economic Recovery:
Other important current affairs:
1.Jallikattu: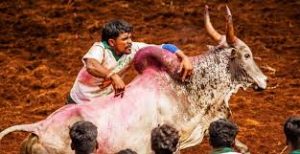 With Assembly polls round the corner in Tamil Nadu, the Pongal festival and Jallikattu, the traditional bull-taming sport, have caught the attention of political parties.
Jallikattu:
The bull-taming sport is popular in Madurai, Tiruchirappalli, Theni, Pudukkottai and Dindigul districts known as the Jallikattu belt.
Jallikattu is celebrated in the second week of January, during the Tamil harvest festival, Pongal.
A tradition over 2,000 years old, Jallikattu is a competitive sport as well as an event to honour bull owners who rear them for mating.
It is a violent sport in which contestants try to tame a bull for a prize; if they fail, the bull owner wins the prize.
Jallikattu is considered a traditional way for the peasant community to preserve their pure-breed native bulls.
At a time when cattle breeding is often an artificial process, conservationists and peasants argue that Jallikattu is a way to protect these male animals which are otherwise used only for meat if not for ploughing.
Jallikattu first came under legal scrutiny in 2007 when the Animal Welfare Board of India and the animal rights group PETA moved petitions in the Supreme Court against Jallikattu as well as bullock cart races.
The Tamil Nadu government, however, worked its way out of the ban by passing a law in 2009, which was signed by the Governor.
In 2011, the UPA regime at the Centre added bulls to the list of animals whose training and exhibition is prohibited.
In May 2014, the Supreme Court banned the bull-taming sport, ruling on a petition that cited the 2011 notification.
In January 2017, massive protests erupted across Tamil Nadu against the ban, with Chennai city witnessing a 15-day-long Jallikattu uprising.
The same year, the Tamil Nadu government released an ordinance amending the central Act and allowing Jallikattu in the state; this was later ratified by the President.
PETA challenged the state move, arguing it was unconstitutional (Article 29(1)).
In 2018, the Supreme Court referred the Jallikattu case to a Constitution Bench, where it is pending now
2.Open Skies Treaty (OST):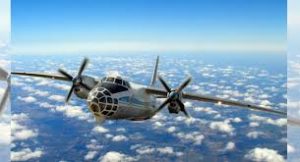 Russia pulled out of the Open Skies Treaty (OST) citing the earlier withdrawal of the USA from the treaty.
According to Russia, provisions of the pact that allows unarmed surveillance flights over member countries had been seriously compromised by the withdrawal of the United States.
This move was made after the USA pulled out of the Open Skies Treaty in November 2020, arguing that Russian violations made it untenable for the United States to remain a party.
This is different from the Open Sky Agreements which are bilateral agreements that the two countries negotiate to provide rights for airlines to offer international passenger and cargo services.
It expands international passenger and cargo flights. Recently, the United Arab Emirates (UAE) has expressed interest to have an Open Sky Agreement with India.
Reasons for USA Withdrawal:
Russia's continuous noncompliance: The USA had for over a decade accused Russia of non-compliance with OST protocols, blaming Moscow of obstructing surveillance flights on its territory, while misusing its own missions for gathering key tactical data.
OST misused to claim Ukrainian region: The USA also accused Russia of designating an airfield in the annexed Crimean Peninsula as an Open Skies refueling base as an illegal attempt by Russia to cement its claim to the Ukrainian region.
The risk to critical infrastructures: Russia misused its flights over the USA and Europe to identify critical infrastructure for the potential attack in a time of war.
Reasons for Russia Withdrawal:
USA limiting OST: Russia defends its non compliance with the OST to allow flights over Kaliningrad (Russian exclave in Eastern Europe that lies between NATO allies Lithuania and Poland) citing the example of the US imposing similar limits on flights over Alaska.
No assurance from NATO members: After USA withdrawal from OST, Russia did not get the sought assurance from North Atlantic Treaty Organization (NATO) allies who continued to remain on the treaty that they would not transfer data collected by their flights over Russia to Washington (USA).
3.47th G7 Summit: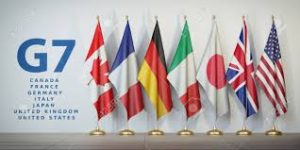 The United Kingdom has invited the Indian Prime Minister as a guest to attend the 47th G7 summit that is scheduled to be held in June 2021.
Apart from India, Australia and South Korea are also invited to participate in the proceedings of the summit as "guest countries".
UK, India & G7:
The UK was the first P5 member to support a permanent UN Security Council seat for India and the first G7 member to invite India to a G7 Summit in 2005.
The proposed summit will be the first in-person G-7 summit in almost two years.
Objective: Unite leading democracies to help the world build back better from the coronavirus and create a greener, more prosperous future.
Group of Seven (G-7):
It is an intergovernmental organization that was formed in 1975.
The bloc meets annually to discuss issues of common interest like global economic governance, international security and energy policy.
The G-7 does not have a formal constitution or a fixed headquarters. The decisions taken by leaders during annual summits are non-binding.
Members: G-7 is a bloc of industrialized democracies i.e. France, Germany, Italy, the United Kingdom, Japan, the United States, and Canada.
The G7 was known as the 'G8' for several years after the original seven were joined by Russia in 1997.
The Group returned to being called G7 after Russia was expelled as a member in 2014 following the latter's annexation of the Crimea region of Ukraine
4.Uighurs: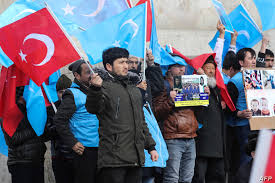 Britain's government has pressed China to allow UN rights inspectors to visit Xinjiang after raising new allegations of "appalling" human rights abuses against the Uighur minority people.
UK recently introduced import controls on firms that may have sourced goods from the region in northwest China using forced labor from the mainly Muslim Uighur community.
There have been reports of "slave labour, forced sterilization, appalling human rights abuses in the region".
Uighurs:
Uighurs are a Muslim minority community concentrated in China's northwestern Xinjiang province.
They claim closer ethnic ties to Turkey and other central Asian countries than to China.
China targeting the Uighurs:
Xinjiang is technically an autonomous region within China — its largest region, rich in minerals, and sharing borders with eight countries, including India, Pakistan, Russia, and Afghanistan.
Over the past few decades, as economic prosperity has come to Xinjiang, it has brought with it in large numbers the majority Han Chinese, who have cornered the better jobs, and left the Uighurs feeling their livelihoods and identity were under threat.
This led to sporadic violence, in 2009 culminating in a riot that killed 200 people, mostly Han Chinese, in the region's capital Urumqi. And many other violent incidents have taken place since then.
Beijing also says Uighur groups want to establish an independent state and, because of the Uighurs' cultural ties to their neighbors, leaders fear that elements in places like Pakistan may back a separatist movement in Xinjiang.
Therefore, the Chinese policy seems to have been one of treating the entire community as suspect and launching a systematic project to chip away at every marker of a distinct Uighur identity.
5.K-Shaped Economic Recovery: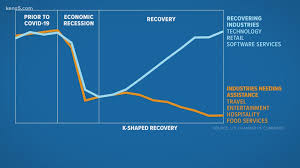 The latest readings of the Nomura India Normalization Index (NINI) suggested the impact of Covid-19 on the Indian Economy and the K-Shaped Recovery through which the Indian Economy is recovering.
Nomura Services India Private Limited (Nomura Holdings Inc) is a consumer services company.
Effect of Covid-19 on Households:
Households at the top of the pyramid are likely to have seen their incomes largely protected, and savings rates forced up during the lockdown, increasing 'fuel in the tank' to drive future consumption.
Households at the bottom are likely to have witnessed permanent hits to jobs and incomes.
Effect of the Current Monetary Policy:
A long lasting period of ultra-accommodative monetary policy has led to a fall in real lending rates and spreads for corporates and households that should eventually come as lagged relief to the interest-sensitive sectors.
An economic spread is a measure of a company's ability to make money on its capital investments.
Impact of Vaccination:
Lagging sectors such as travel, tourism and hospitality will finally emerge out of the effect of Covid-19.
Economic Recovery after Covid-19:
As the fiscal deficit in FY 2020-21 has widened to roughly 7% of GDP, which is double the pre-pandemic target of 3.5 % of GDP.
The government may, therefore, feel encouraged to rely on higher fuel taxes, disinvestment, and sin taxes to bolster coffers.
India is going through a K-shaped recovery, wherein corporates and households with stronger balance sheets have recovered more robustly, while smaller firms and poorer households probably remain trapped in a vicious cycle of poverty and indebtedness instigated by the pandemic.
About Economic Recovery:
It is the business cycle stage following a recession that is characterized by a sustained period of improving business activity.
Normally, during an economic recovery, GDP grows, incomes rise, and unemployment falls and as the economy rebounds.
Types:

Economic recovery can take many forms, which is depicted using alphabetic notations. For example, a Z-shaped recovery, V-shaped recovery, U-shaped recovery, elongated U-shaped recovery, W-shaped recovery, L-shaped recovery and K-shaped recovery.
K-Shaped Recovery:
A K-shaped recovery occurs when, following a recession, different parts of the economy recover at different rates, times, or magnitudes.
This is in contrast to an even, uniform recovery across sectors, industries, or groups of people.
A K-shaped recovery leads to changes in the structure of the economy or the broader society as economic outcomes and relations are fundamentally changed before and after the recession.
This type of recovery is called K-shaped because the path of different parts of the economy when charted together may diverge, resembling the two arms of the Roman letter "K."
Other important current affairs:
1.Difficult four:
Russia, Turkey, Saudi Arabia, and India.
These are the Countries where citizens do not have the capacity to fight for their rights.
The classification has been made by Chatham House, the century-old UK-based policy institute also known as the Royal Institute of International Affairs.
Chatham House has published a report proposing a blueprint for Britain's future foreign policy after Brexit. Titled "Global Britain, Global Broker", the report sketches a bold path ahead for the UK.
2.An agri-food policy does India need: According to Ashok Galati, the Infosys Chair Professor for Agriculture at ICRIER:
It should be able to produce enough food, feed and fibre for its large population.
In this regard, the best step is to invest in R&D for agriculture, and its extension from laboratories to farms and irrigation facilities.
It is believed that developing countries should invest at least one per cent of their agri-GDP in agri-R&D and extension. India invests about half.
It should do so in a manner that not only protects the environment, soil, water, air, and biodiversity but achieves higher production with global competitiveness.
This can be done by switching from the highly subsidised input price policy (power, water, fertilisers) and MSP/FRP policy for paddy, wheat and sugarcane, to more income support policies linked to saving water, soil and air quality.
It should enable seamless movement of food from farm to fork, keeping marketing costs low, save on food losses in supply chains and provide safe and fresh food to consumers.
Consumers should get safe and nutritious food at affordable prices.
The public distribution of food, through PDS, that relies on rice and wheat, and that too at more than 90 per cent subsidy over costs of procurement, stocking and distribution, is not helping much.
3.The Department of Telecommunications (DoT) has sought inputs from Telcos and other industry experts on the sale and use of radio frequency spectrum over the next 10 years, including the 5G bands.
5G is the next generation of mobile broadband that will eventually replace, or at least augment 4G LTE connection.
5G offers exponentially faster download and upload speeds.
5G will deliver multi-Gbps peak rates, ultra-low latency, massive capacity, and a more uniform user experience.
5g
All the three private telecom players, Reliance Jio Infocomm, Bharti Airtel and Vi have been urging the DoT to lay out a clear road map of spectrum allocation and 5G frequency bands, so that they would be able to plan the roll out of their services accordingly.
One big hurdle, however, is the lack of flow of cash and adequate capital with at least two of the three players, namely Bharti Airtel and Vodafone Idea.
On the other hand, Reliance Jio plans to launch an indigenously built 5G network for the country as early as the second half of this year.
More than governments, global telecom companies have started building 5G networks and rolling it out to their customers on a trial basis. In countries like the US, companies such as AT&T, T-Mobile, and Verizon have taken the lead when it comes to rolling out commercial 5G for their users.
India's National Digital Communications Policy 2018 highlights the importance of 5G when it states that the convergence of a cluster of revolutionary technologies including 5G, the cloud, Internet of Things (IoT) and data analytics, along with a growing start-up community, promise to accelerate and deepen its digital engagement, opening up a new horizon of opportunities.
5.The trade deficit, between India and China, declined to a five year-low of 45.8 billion USD in 2020, the lowest since 2015.
Trade Deficit: A trade deficit is an amount by which the cost of a country's imports exceeds its exports.
Bilateral Trade in 2020: Two-way trade in 2020 reached 87.6 billion USD, down by 5.6% from 2019, according to new figures from China's General Administration of Customs (GAC).
India's imports from China accounted for 66.7 billion USD, declining by 10.8% year-on-year and the lowest figure since 2016.
India's exports to China, however, rose to the highest figure on record, crossing the 20 billion USD mark and growing 16% in 2020.
5.The Ministry of Finance has extended the bidding deadlines for the strategic disinvestment of Pawan Hans by a month, citing logistical challenges faced by interested bidders due to the Covid-19 pandemic.
Pawan Hans Limited is a helicopter service company based in New Delhi. It is a Mini Ratna-I category Public Sector Undertaking.
Government's Disinvestment Target for 2020-2021: Government plans to raise Rs. 2.1 lakh crore through disinvestment in 2020-21, with just about Rs. 14,000 crore raised so far through minority stake sales.
New Public Sector Policy: As part of the 'Aatmanirbhar Bharat Abhiyan' package, the government in May 2020 had announced that there will be a maximum of four public sector companies in the strategic sectors, and state-owned firms in other segments will eventually be privatised.
Under the policy, a list of strategic sectors will be notified where there will be at least one and a maximum of four public sector enterprises, apart from private sector companies.
In other sectors, central public sector enterprises (CPSEs) will be privatised, depending on the feasibility.
Current Situation:

The Bidding deadline for the disinvestment of Pawan Hans has been extended by a month.
Strategic sales of public sector firms like Air India and Bharat Petroleum Corporation Limited (BPCL) are unlikely to conclude this year.
Further amendments are needed to the LIC Act of 1986 to list the Life Insurance Corporation of India on the markets.
6.Washington University School of Medicine in St Louis (WUSTL) have published a paper showing that a relatively simple and rapid blood test can predict which Covid-19 patients are at highest risk of severe complications or death.
About the Blood Test: It measures levels of mitochondrial DNA, a unique type of DNA molecule that normally resides inside the energy factories of cells.
Mitochondrial DNA spilling out of cells and into the bloodstream is a sign that a particular type of violent cell death is taking place in the body.
The team evaluated 97 patients with Covid-19, measuring their mitochondrial DNA levels on the first day of their hospital stay.
They found that mitochondrial DNA levels were much higher in patients who eventually were admitted to the ICU, incubated or died.
This association was independent of a patient's age, sex and underlying health conditions.
7.India Meteorological Department (IMD), a western disturbance is likely to affect the Himalayan region soon.
The disturbances will result in fairly widespread light to moderate snowfall and rains in the plains of Jammu.
Western Disturbance (WD), labelled as an extra-tropical storm originating in the Mediterranean, is an area of low pressure that brings sudden showers, snow and fog in northwest India.
The meaning of WD lies in its name.
The disturbance travels from the "western" to the eastern direction.
These travel eastwards on high-altitude westerly jet streams – massive ribbons of fast winds traversing the earth from west to east.