Daily Current Affairs for Government Exams:
Today Current Affairs: 22nd July 2020 for UPSC IAS exams, State PSC exams, SSC CGL, State SSC, RRB, Railways, Banking Exam & IBPS, etc
Contents:
Household Social Consumption: Education"
Zero Hunger' by 2030:
Global Fund to Fight AIDS, Tuberculosis and Malaria (GFTAM):
Serological survey:
China Proposes Territory Swap with Bhutan:
Other important current affairs:
1. "Household Social Consumption: Education":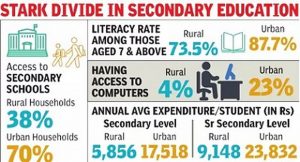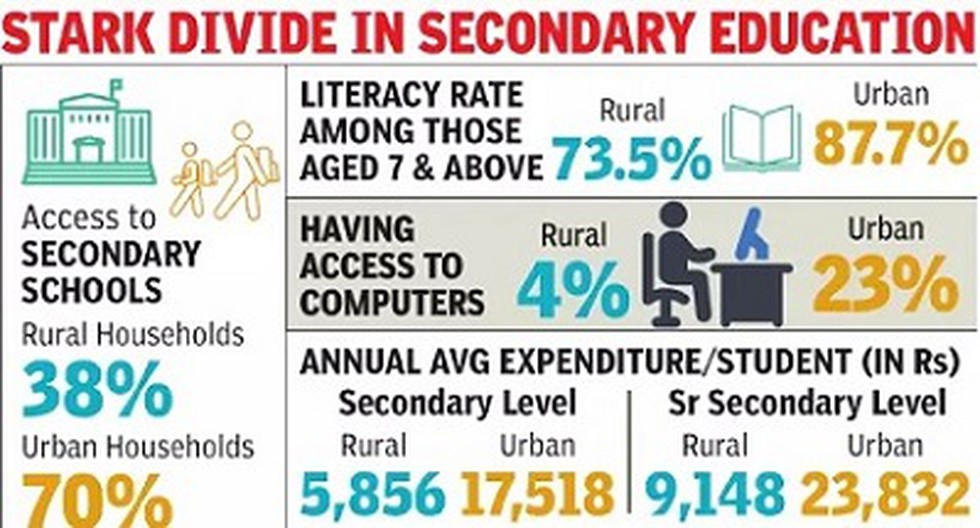 The National Statistical Office (NSO) released a report on "Household Social Consumption: Education" in which it surveyed 1.13 lakh households spread across over 8,000 villages and 6,000 urban blocks between July 2017 and June 2018.
The rural-urban gap remains significant in literacy, accessibility to schools, and household expenditure on education.
On Accessibility to schools,7% of the rural households have a primary school within 1 km as compared to 87.2% in urban areas.
But only 38% of the rural household have access to secondary school as compared to 70% in the urban areas on similar parameters.
The all India literacy rate among persons aged 7 years and above is 77.7%. However, for the same age group, rural literacy is 73.5% and in the urban areas, it is 87.7%.
There is a digital divide, too, with just 4% of the rural households having access to computers as compared to 23% in urban areas.
While 15% surveyed population in the rural cluster has internet access, 42% of the surveyed students in the urban areas have access to the internet.
Annual average expenditure per student at secondary and senior secondary level in a rural household stands at Rs 5,856 and Rs 9,148 respectively.
An urban household for the same classes spends Rs 17,518 and Rs 23,832 respectively.
Around 76% of the rural children are attending a primary and middle school run by the government, while only 38% of the urban children are attending government schools and instead prefer private schools.
2.Zero Hunger' by 2030: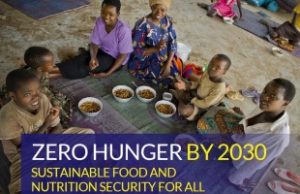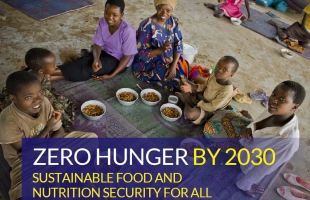 According to a study titled State of Food Security and Nutrition in the World, hunger and malnutrition are increasing around the world. In this scenario, achieving the Sustainable Development Goal (2) of 'Zero Hunger' by 2030 will be very difficult.
The State of Food Security and Nutrition in the World is the most authoritative global study tracking progress towards ending hunger and malnutrition.
It is produced jointly by the Food and Agriculture Organization (FAO) of the United Nations, the International Fund for Agriculture (IFAD), the United Nations Children's Fund (UNICEF), the UN World Food Programme (WFP) and the World Health Organization (WHO).
Increasing Hunger:
Steep Rise: The study estimates that almost 690 million people went hungry in 2019 – up by 10 million from 2018, and by nearly 60 million in five years (2014-2019).
Hunger is an uncomfortable or painful physical sensation caused by insufficient consumption of dietary energy.
For decades, FAO has used the prevalence of undernourishment indicator to estimate the extent of hunger in the world, thus "hunger" may also be referred to as undernourishment.
Chronic Hunger: There has been no change in the hunger trend since 2000, After steadily diminishing for decades, chronic hunger slowly began to rise in 2014 and continues to do so.
Regional Hotspots: Asia remains home to the greatest number of hunger (381 million). Africa is second (250 million), followed by Latin America and the Caribbean (combined 48 million).
Rate of Hunger: The rate of undernourishment (hunger) in Africa is double compared to Asia and it is expected that by 2030, Africa will be home to more than half of the world's chronically hungry.
Impact of Covid-19: The Covid-19 pandemic could also push over 130 million more people into chronic hunger by the end of 2020.
Reasons: High costs and low affordability was the main reason behind the hunger.
Increasing Malnutrition:
Affordability: The study estimates that 3 billion people or more cannot afford a healthy diet.
In sub-Saharan Africa and southern Asia, this is the case for 57% of the population.
The key reason behind malnutrition is the high cost of nutritious foods and the low affordability of healthy diets for vast numbers of families.
According to the study, a healthy diet costs far more than USD 1.90/day, which is the international poverty threshold.
It puts the price of even the least expensive healthy diet at five times the price of filling stomachs with starch only.
Impact on Children: According to the study, in 2019, nearly a third of children under five (191 million) were stunted (too short) or wasted (too thin). Another 38 million under-fives were overweight.
3.Global Fund to Fight AIDS, Tuberculosis, and Malaria (GFTAM):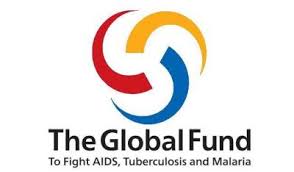 Deprived of sources of livelihood during the pandemic, sex workers, transpersons, gay and bisexual men, drug users and people living with HIV/AIDS have petitioned the Global Fund for AIDS, TB and Malaria (GFATM) protesting against being ignored by the government and multilateral agencies in coronavirus (COVID-19) related emergency relief efforts.
The petitioners urge the GFATM to issue guidance to governments to channelize their COVID-19 relief funds to the emergency survival needs of KPs.
About GFTAM:
Popularly known as the Global Fund, it aims to "attract, leverage and invest additional resources to end the epidemics of HIV/AIDS, tuberculosis and malaria to support attainment of the Sustainable Development Goals established by the United Nations."
Founded in 2002, the Global Fund is a partnership between governments, civil society, the private sector and people affected by the diseases.
Secretariat is in Geneva, Switzerland.
The G8 formally endorsed the call for the creation of the Global Fund at its summit in July 2001 in Genoa, Italy
The Global Fund was formed as an independent, non-profit foundation under Swiss law and hosted by the World Health Organization in January 2002.
In January 2009, the organization became an administratively autonomous organization, terminating its administrative services agreement with the World Health Organization.
The Global Fund is a financing mechanism rather than an implementing agency.
Programs are implemented by in-country partners such as ministries of health, while the Global Fund secretariat monitors the programs.
Implementation is overseen by Country Coordinating Mechanisms, country-level committees consisting of in-country stakeholders that need to include, according to Global Fund requirements, a broad spectrum of representatives from government, NGOs, faith-based organizations, the private sector, and people living with the diseases.
4.Serological survey: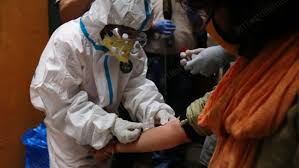 The Ministry of Health and Family Welfare has declared the results of a serological survey carried out in Delhi between June 27 and July 10.
A total of 21,387 samples were collected to look for the presence of antibodies.
This study has been done by the National Centre for Disease Control [NCDC] in collaboration with Govt of National Capital Territory of Delhi, following a rigorous multi-stage sampling study design.
Serological survey:
A serological survey seeks to assess the prevalence of the disease in a population by detecting the presence of specific antibodies against the virus.
The survey included the IgG Enzyme-Linked Immunosorbent Assay (ELISA) test which estimates the proportion of the population exposed to SARS-CoV-2 infection.
The IgG test is not useful for detecting acute infections, but it indicates episodes of infections that may have occurred in the past.
The test has been approved by ICMR for its high sensitivity and specificity.
Since it is not possible to test everyone in the population, serological studies are used as a tool to make an estimate of the extent of disease spread in the community.
Key findings:
22.86% of the people surveyed had developed IgG antibodies, indicating they had been exposed to the novel coronavirus that causes Covid-19.
This shows that the proactive efforts by the government to prevent the spread of Covid-19, including prompt lockdown, effective containment and surveillance measures, contact tracing and tracking, as well as citizens' compliance, had yielded benefits.
5.China Proposes Territory Swap with Bhutan: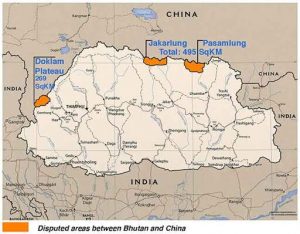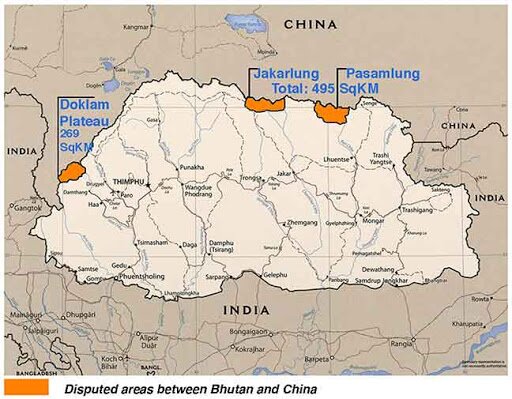 Recently, China has offered Bhutan a "package solution" to its boundary dispute. Although the package solution is not specified, it may be seen as a revival of the 1996 proposal by China for a territory swap.
Territory Swap:
In 1996, China wanted to exchange the valleys to the north of Bhutan (an area of 495 square kilometers), with the pasture land to the west (including Doklam), totaling 269 square kilometers.
The deal would have benefited Bhutan by giving it the larger chunk of land and resolving its tensions with China.
However, it was a big worry for India, as the Doklam swap would have given China access to the strategically sensitive "chicken neck" of the Siliguri corridor.
China also repeated its claim on Bhutan's eastern boundary at Sakteng.
Earlier, China has made the claim over Sakteng at an online meeting of the 58th Global Environment Facility (GEF) Council, while unsuccessfully objecting to the funding request to develop the Sakteng Wildlife Sanctuary project in eastern Bhutan.
China claims that the boundary between China and Bhutan has never been delimited. It has had disputes over the eastern, central and western sectors of Bhutan.
However, Bhutan outrightly rejected the claim made by China by saying that Sakteng is an integral and sovereign territory of Bhutan.
According to Bhutan, China and Bhutan have a dispute in only two sectors of the border, one in the north (central) – Pasamlung and Jakarlung, and second in the west – Doklam.
There has been no mention of eastern Bhutan, where Sakteng is based, in 24 previous rounds of boundary negotiations held between the two countries between 1984 and 2016.
Reason Behind the New Offer:: The aim may be to pressure Bhutan into concluding a deal quickly on terms on offer, otherwise, the claims may keep increasing.
A similar offer was made to India on Arunachal Pradesh, which subsequently expanded to include a Chinese claim on Tawang in 1985.
Other important current affairs:
1. The Delhi High Court has directed the Animal Welfare Board (AWB) to forthwith carry out a nationwide survey to find out the number of animals in circuses, which are unable to perform due to the COVID-19 pandemic, and consider rehabilitating them to the nearest zoos.
The court has also issued notices to other relevant stakeholders and directed them to file replies within two weeks.
The court was hearing a plea stating that the condition of animals is vulnerable due to the bankruptcy of circuses due to the pandemic.
The petition was filed by the Federation of Indian Animals Protection (FIAPO), which is a collection of 100 organizations working towards the protection of animal rights for over a decade.
It challenged the constitutional validity of Sections 21 to 27 of the prevention of Cruelty to Animals Act so far as they permit exhibition and training of animals in relation to circus acts.
The petitioners also sought to declare the Performing Animal Rules, 1973 and Performing Animal (Registration) Rules, 2001 to the extent that they allow registration of animals as 'performing animals' for circuses as against the Prevention of Cruelty to Animals Act and the Constitution of India.
On account of the COVID-19 pandemic, there have been numerous reports of animals being stranded as part of these circuses all over the country and being abandoned by their owners.
Therefore, authorities should formulate an appropriate scheme for the rescue, rehabilitation and relocation of all animals rescued from circuses.
2. As the most severe Covid-19 cases have occurred mostly in older people, researchers are investigating whether inflamm-aging has a role in it
Inflamm-ageing is a chronic low-grade inflammation that develops with advanced age.
While inflammation is essential to the immune response, inflammageing is not.
It is believed to accelerate the process of biological aging and to worsen many age-related diseases.
The major cause of inflamm-ageing is accumulation of misplaced and misfolded self-molecules from damaged cells.
These molecules are recognized by receptors of innate immune cells which leads to their activation and consequently to inflammation.
3. The UAE is keen to have an open sky agreement with India. There are about 1,068 flights a week between India and the UAE operated by the airlines of the two countries under the bilateral Air Service Agreement.
National Civil Aviation Policy, 2016 allows the Government of India to enter into an 'Open sky' Air Service Agreement (ASA) on a reciprocal basis with SAARC countries and countries with territory located entirely beyond a 5000 km radius from New Delhi.
Unlimited flights above the existing bilateral rights will be allowed directly to and from major international airports within the country as notified by the Ministry of Civil Aviation (MoCA) from time to time.
4. Union Minister for Power inaugurated India's first public EV (Electric Vehicle) charging plaza at Chelmsford Club in New Delhi.
Energy Efficiency Services Limited (EESL) in collaboration with NDMC has established the public EV Charging Plaza in Central Delhi.
The EV charging plaza is a new avenue for making e-mobility convenient in India. The plaza will host 5 Electric Vehicle Chargers of different specifications.
5. The Parliamentary Standing Committee on Labour has recommended that the government introduce a social security number for migrant workers, especially those working in the unorganized sectors which are beyond the purview of the labor laws.
The Ministry of Labour and Employment was unable to give any concrete figures on the number of migrant workers.
However, the officials quoted data from the Railway Ministry.
About 1.08 crore migrant workers had traveled on Special Shramik express trains initiated by the government to ferry migrant workers.
It was pointed out that students and family members of the workers too used these trains and thus this figure doesn't accurately record the number of migrant workers.
6.HIL (India) Limited has supplied 20.60 Metric tonnes of Dichlorodiphenyltrichloroethane (DDT), a insecticide to South Africa for their malaria control program.
The Company is further in the process of supplying DDT to Zimbabwe and Zambia in the current Financial Year 2020-21.DDT:
It is a colorless, tasteless, and almost odorless crystalline chemical compound.
It was first synthesized in 1874 by the Austrian chemist Othmar Zeidler.
Its insecticidal action was discovered by the Swiss chemist Paul Hermann Muller in 1939.
He was awarded the Nobel Prize in Physiology or Medicine in 1948 "for his discovery of the high efficiency of DDT as a contact poison against several arthropods.
Arthropods are invertebrate species which include insects (Mosquitos), arachnids (Spiders), and crustaceans (Crabs), etc.
Originally developed as an insecticide, it became infamous for its environmental impacts.
A worldwide ban on agricultural use was formalized under the Stockholm Convention on Persistent Organic Pollutants.
However, its limited use in disease vector control continues, because of its effectiveness in reducing malarial infections.
The World Health Organisation (WHO) recommends DDT as one of the efficient Indoor Residual Spraying (IRS) chemicals to curb mosquito menace and it is widely used by Southern African countries like South Africa, Zimbabwe, Zambia, Namibia, Mozambique, and India.
IRS is a core vector control intervention that involves the application of a residual insecticide to internal walls and ceilings of housing structures where malaria vectors may come into contact with the insecticide.
Supply to South Africa: South Africa will be utilizing DDT in three provinces bordering Mozambique.
The region is highly affected by Malaria and it has reported maximum morbidity and mortality.
Supply to Other Countries: HIL (India) Limited has recently exported Malathion Technical 95% to Iran under Government-to-Government initiative for the Locust Control Programme and also exported Agrochemical-fungicide to Latin American region.