The National Logistics Portal (marine) In New Delhi: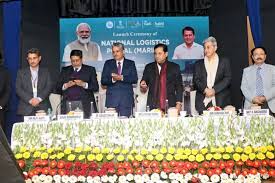 The Union Minister for Ports, Shipping and Waterways inaugurated The National Logistics Portal (marine) in New Delhi.
The National Logistic Portal (marine) (NLP) is a project of national importance, as envisaged by the Ministry of Ports Shipping Waterways and the Ministry of Commerce & Industry.
Aim to use IT to connect all logistics community stakeholders, to improve efficiency and transparency by reducing costs and time delays and achieving easier, faster, and more competitive service offerings.
Key features of the Portal:
NLP will serve as a single point of contact for all logistics trade processes across the country, including all modes of transportation via waterways, roads, and airways.
The activities of NLP Marine are categorized into four distinct verticals

Carrier
Cargo
Banking and Finance

Regulatory Bodies and Participating Government Agencies (PGAs).
The Latch On feature facilitates the trade in providing the required features that are not directly embedded into NLP Marine, by linking through systems developed by other agencies seamlessly without duplication of efforts.
It is envisaged that many standalone applications, developed by multiple vendors, users, and other stakeholders will integrate with NLP Marine through appropriate curation.