Ayushman Bharat Yojana | Scheme
Ayushman Bharat Yojana is a scheme that aims to help economically vulnerable Indians who are in need of healthcare facilities. Ayushman Bharat is also known as Pradhan Mantri Jan Arogya Abhiyaan, or the National Health Protection Mission (AB-NHPM) or Modicare.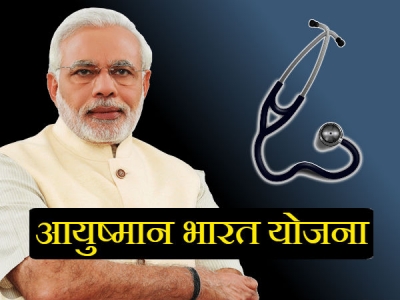 This scheme aims to cover over 10 crores poor and deprived rural families as well as families of identified occupational categories of urban workers (as per the latest Socio-Economic Caste Census, or SECC, data) for secondary and tertiary care hospitalization. This can have a real transformative effect if implemented effectively and, equally importantly, if the target population is made aware of the scheme. We all are aware of the economic consequences of poor health and a scheme such as this one can go a long way in achieving the goal of a nation of healthy, happy, productive and prosperous people.
Contents:
Background.
Key features.
Eligibility criteria.
Process
Scheme premium.
About e-card
Wellness centers.
Benefits of the scheme.
List of diseases under the scheme.
Background:
Prime Minister Narendra Modi rolled out this health insurance scheme on 23 September 2018 to cover about 50 crore citizens in India. As of September 2019, it was reported that 18,059 hospitals have been impaneled, over 4,406,461 lakh beneficiaries have been admitted and over 10 crore e-cards have been issued.
Under this scheme, poor people in India become eligible for cashless treatment worth 5 lakh in all government hospitals also selected private hospitals in India. Moreover, 150,000 new health and wellness centers will start for free health treatment and low-cost medicines for the poor and needy people.
The Ayushman Bharat Yojana – National Health Protection Scheme, which has now been renamed as Pradhan Mantri Jan Arogya Yojana, plans to make secondary and tertiary healthcare completely cashless. The PM Jan Arogya Yojana beneficiaries get an e-card that can be used to avail services at an impaneled hospital, public or private, anywhere in the country. With it, you can walk into a hospital and obtain cashless treatment.
The coverage includes 3 days of pre-hospitalization and 15 days of post-hospitalization expenses. Moreover, around 1,400 procedures with all related costs like OT expenses are taken care of. All in all, PMJAY and the e-card provide a coverage of Rs. 5 lakh per family, per year, thus helping the economically disadvantaged obtain easy access to healthcare services.
26 states and union territories accepted the scheme, except four states: Delhi, Odisha, West Bengal, and Telangana.
Key features of Ayushman Bharat Scheme:
These are the main features of the scheme:
All eligible beneficiaries can avail free services for secondary and tertiary hospitalization care for identified packages (1,350 medical packages) covering surgery, medical and day-care treatments, cost of medicines and diagnostics.
All pre-existing health conditions are covered from Day 1 of the implementation of the scheme in respective states/union territories.
The benefits of the scheme are portable across the country. A beneficiary covered under the scheme will be allowed to take cashless benefits from any public/private impaneled hospital across the country.
Insurance cover of up to Rs 500,000 will be given per year per family.
The yearly premium for the insurance will be shared between the central and state/UT government on a specified ratio.
Eligibility criteria:
Eligibility Criteria for Rural & Urban People:
Rural area categories: The different categories in rural areas include:
Families having only one room with kucha walls and kucha roof;
Families having no adult member between the ages of 16 years and 59 years;
Female-headed households with no adult male member between the ages of 16 years and 59 years;
Disabled members and no able-bodied adult member in the family;
SC/ST households; and landless households deriving a major part of their income from manual casual labor.
Also, these families in rural areas having any one of the following will be automatically included: Households without shelter, destitute, living on alms, manual scavenger families, primitive tribal groups, and legally released bonded labor.
Urban area categories: For urban areas, 11 defined occupational categories are entitled under the scheme:
Main source of income related to household has been clarified in urban areas as beggars; rag-pickers; domestic workers; street vendors/cobblers/hawkers/other service providers working on the streets; construction workers/ plumbers/ masons/ labor/ painters/ welders/ security guards/coolies and other head-load workers; Sweepers/ sanitation workers/ malis;
Home-based workers/artisans/handicrafts workers/ tailors; Transport workers/ drivers/ conductors/helpers to drivers and conductors/cart pullers/ rickshaw pullers; shop workers/ assistants/ peons in small establishments/ helpers/ delivery assistants / attendants/ waiters; electricians/ mechanics/ assemblers/repair workers; washer-men/ chowkidars;
Other work/Non-work ; Non-work (Pension/ Rent/ Interest, etc.).
People not entitled for the Health Cover under Pradhan Mantri Jan Arogya Yojana:
Those who own a two, three or four-wheeler or a motorized fishing boat
Those who own mechanized farming equipment
Those who have Kisan cards with a credit limit of Rs.50000
Those employed by the government
Those who work in government-managed non-agricultural enterprises
Those earning a monthly income above Rs.10000
Those owning refrigerators and landlines
Those with decent, solidly built houses
Those owning 5 acres or more of agricultural land.
Hospital eligibility:
Services under the scheme can be availed at all public hospitals and impanelled private health care facilities. Also, the basic empanelment criteria allow the empanelment of a hospital with a minimum of 10 beds. Empanelment of the hospitals under AB-NHPM will be conducted through an online portal by the state government. Information about impaneled hospitals will be made available through different means such as government websites and mobile apps. Beneficiaries can also call the helpline number at 14555.
To control costs, the payments for treatment will be done on a package rate (to be defined by the Government in advance) basis. However, hospitals with NABH/NQAS accreditation can be incentivized for higher package rates subject to the procedure and costing guidelines.
Process:
There is no enrolment process in AB-NHPM as it is an entitlement-based mission. Families who are identified by the government on the basis of deprivation and occupational criteria using the SECC database, both in rural and urban areas, are entitled to AB-NHPM. Currently, the database is based on the census for the year 2011.
A list of eligible families has been shared with the respective state governments as well as state-level departments like the ANMs, BMO, and BDOs of relevant areas. A dedicated AB-NHPM family identification number will be allotted to eligible families. Only families whose name is on the list are entitled to the benefits of AB-NHPM.
Additionally, families with an active RSBY card as of 28 February 2018 will be covered. No additional new families can be added under AB-NHPM. However, the names of additional family members can be added for those families whose names are already on the SECC list.
The beneficiaries will not be required to pay any charges and premiums for the hospitalization expenses. The benefit also includes pre- and post-hospitalization expenses.
Each impaneled hospital will have an 'Ayushman Mitra' to assist patients and will coordinate with beneficiaries and the hospital. They will run a help desk, check documents to verify the eligibility, and enrolment to the scheme.
Also, all the beneficiaries will be given letters having QR codes which will be scanned and a demographic authentication will be conducted for identification and to verify his or her eligibility to avail the benefits of the scheme.
Benefits of the scheme are portable across the country and a beneficiary covered under the scheme will be allowed to take cashless benefits from any public/private impaneled hospitals across the country.
Scheme premium:
The insurance cover is of Rs. 5,00,000 per family will be given. Premium is not expected to be more than Rs.2,000 per year which will be borne by Central Government (60%) & State Government (40%).
Registration process(mandatory documents):
A person can apply online by filling the form by visiting the official site.
Mandatory Documents for Ayushman Bharat Yojana Online Application Form:
Aadhar is the main document for this scheme of health insurance coverage.
And also the applicants need to maintain the proper and valid bank account linked with Aadhar number because the money will directly transfer to a mentioned bank account of a policyholder.
Other than this Aadhar card applicants need to maintain the other documents like Age proof, Address proof, contact information, identification details, family structure, caste certificate, income certificate, etc.
E-card: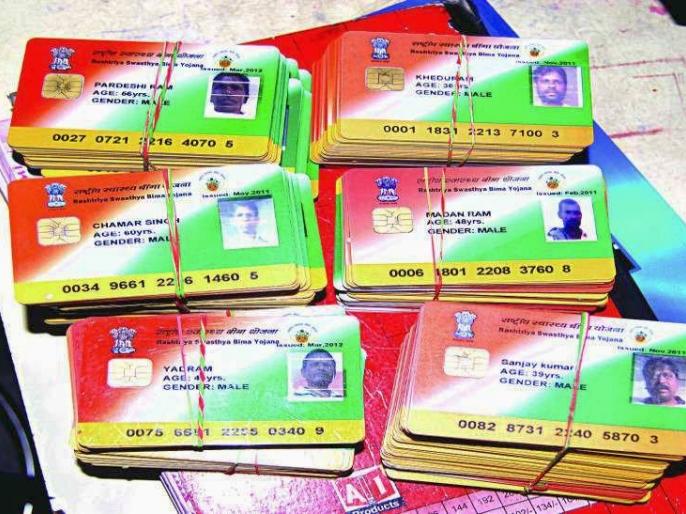 In order to create awareness and facilitate availing of benefits, after verifying the identity of beneficiaries under the scheme, e-cards have been issued to the beneficiaries.
A Memorandum of Understanding (MoU) has been signed with Common Service Center (CSC) e-Governance Services India Limited, under Digital India Initiative of Government of India, for utilizing their network of CSCs to verify AB-PMJAY beneficiaries' identity under the scheme for issuance of the e-card.
Besides, the beneficiary identification process is undertaken at all the impanelled hospitals including private service providers through Pradhan Mantri Arogya Mitras (PMAMs).
Wellness Centres: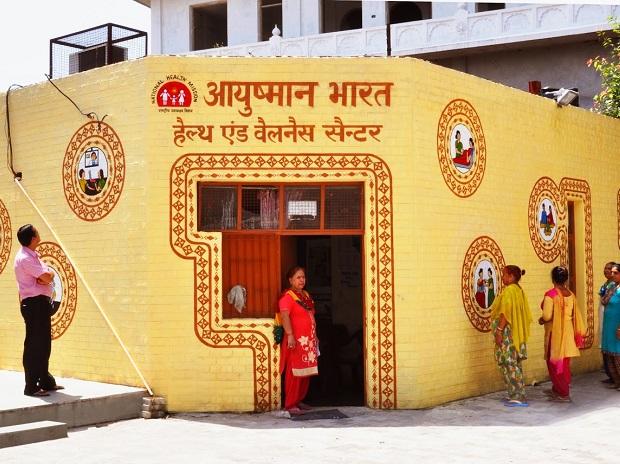 A wellness center is a place where mental and medical healthcare professionals, nutritionists and life-coaches provide a variety of treatments and services for the health of their clients' minds and bodies. Some wellness centers are non-profit organizations.
The Indian government is allocating Rs 1200 crores for the health and wellness centers under this scheme across the nation. This will ease the medical and health care access for general people of the nation
These centers will have the proper equipment to give medical treatment to children, women, and maternity also the people with noncommunicable diseases.
Around 8,000 health and wellness centers have become operational in 35 states and union territories under the government's flagship Ayushman Bharat scheme, Union Minister Ashwini Kumar Choubey said Saturday.
Under the program, the health ministry has set a target to transform nearly 1.5 lakh primary health centers and sub-centers as health and wellness centers by 2022 to provide comprehensive and quality primary care close to the community.
These centers will be equipped to provide treatment for diseases such as blood pressure, diabetes, cancer and old age-related ailments.
Benefits of the Ayushman Bharat Scheme:
Healthcare cover of Rs.5 lakh per family.
All families listed in the SECC( Socio-Economic Caste Census )database to be covered.
Priority to the girl child, women and senior citizens.
It includes secondary and tertiary care.
All pre-existing diseases covered.
Cashless and paperless registration and administration:.
Substantial reduction of out-of-pocket expenditure.
Private sector participation to help in the achievement of public health goals:
Improvement of quality of life of the population:
Broadening the health insurance network:.
List of disease under the scheme:
PMJAY helps households access secondary and tertiary care via funding of up to Rs. 5 lakh per family, per year. This assistance is valid for daycare procedures and even applies to pre-existing conditions. PMJAY extends coverage for over 1,350 medical packages at impaneled public and private hospitals.
Some of the critical illnesses that are covered are as follows.
Prostate cancer
Coronary artery bypass grafting
Double valve replacement
Carotid angioplasty with stent
Pulmonary valve replacement
Skull base surgery
Laryngopharyngectomy with gastric pull-up
Anterior spine fixation
Tissue expander
List of exclusions. They are as follows.
OPD
Drug rehabilitation program
Cosmetic related procedures
Fertility related procedures
Organ transplants
Individual diagnostics (for evaluation).
Current scenario:
Every two seconds, an e-card is being issued to a beneficiary under Prime Minister Narendra Modi's ambitious health scheme Ayushman Bharat, or Pradhan Mantri Jan Arogya Yojana (AB- PMJAY).
More than 45 lakh so far who have availed medical facilities worth Rs 7,500 crore.
Cybersecurity and privacy mechanisms have been set up at the National Health Authority, the apex body implementing the scheme to protect the beneficiary data. "Nearly 1,200 cases of fraud have been confirmed and action has been taken against 338 hospitals,
97 hospitals have been de-impaneled from the scheme while FIRs have been lodged against six hospitals. A total amount of Rs 1.5 crore in penalty has been levied and nearly 1,200 cases of fraud have been confirmed.
The government also announced setting up of 40,000 Health and Wellness Centers by March 2020. "With a target of 1,50,000 centers till 31 December 2022, more than 21,000 Health and Wellness Centers have already been created till now; will reach 40,000 by March 31st,"
The WHO India Country Cooperation Strategy 2019-2023 has identified accelerating progress of the Ayushman Bharat scheme as the top strategic priority.
Ayushman Bharat' gets a big boost in Budget 2019:Union Health Minister Harsh Vardhan welcomed the hike and said the health sector has been strengthened with an overall increase of 18.67 percent.
The Modi government has hiked the spending on health by around 18 percent with allocation for the flagship `Ayushman Bharat` scheme, said to be one of the major reasons for people re-electing the BJP-led National Democratic Alliance (NDA), jumping from Rs 2,400 crore to Rs 6,400 crore.
Union Health Minister Harsh Vardhan welcomed the hike and said the health sector has been strengthened with an overall increase of 18.67 percent. He said the hike in Ayushman Bharat has been 154.8 percent.
20K Ayushman Cards Annulled In Gujarat After Ineligible Beneficiaries Found.
Ayushman Bharat Website – https://pmjay.gov.in/state