Varunastra: Heavy-Weight Torpedo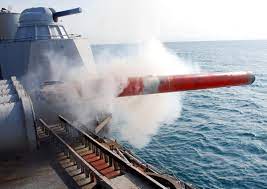 Indigenously designed and developed heavy-weight torpedo (HWT) Varunastra was recently successfully test-fired with a live warhead against an undersea target by the Indian Navy.
Varunastra is ship launched, heavy weight, electrically-propelled anti-submarine torpedo capable of targeting quiet submarines, both in deep and shallow waters in an intense counter-measures environment.
It was designed and developed by Vizag-based Naval Science and Technological Laboratory (NSTL) under the Defence Research and Development Organisation (DRDO) and is manufactured by Bharat Dynamics Ltd (BDL).
Varunastra can be fired from all Anti-submarine warfare (ASW) ships capable of firing heavy weight torpedoes.
It has a length of 7.78 meters (25.5 feet) and a diameter of 533.4 mm (21.00 in).
It is capable of being launched from surface ships and submarines.
It can achieve speeds in excess of 40 knots (74 km/h; 46 mph) and has a range of 40 km (25 mi).
Weighing around 1.5 tonnes, it can carry a 250 kg (550 lb) high-explosive warhead and has a maximum operating depth of 600 metres (2,000 ft).
It has long range with multi manoeuvring capabilities.
The torpedo's guidance system uses active-passive acoustic homing, wire guidance, and GPS/NavIC satellite guidance.
It has conformal array transducers that allow it to look at wider angles than most common torpedoes.
It also has an advanced autonomous guidance algorithm with low drift navigational aids, an insensitive warhead that can operate in various combat scenarios, and a GPS-based locating aid.